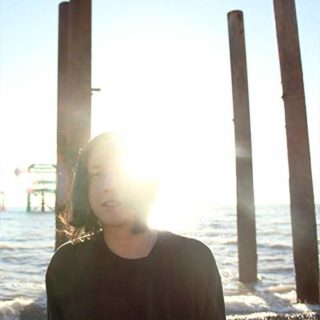 Grimm Grimm, the nomme de guerre of Koichi Yamanoha, has been bubbling away as a project since 2013. When his first album, Hazy Eyes Maybe, was released in 2015, it was to quiet appraisal; an approving yet subtle nod of the head from the music press in his general direction. Now on his third album, Grimm Grimm continues to simmer away, having amassed a healthy social media following and supported the likes of Cate Le Bon and Bo Ningen.
This slow build makes sense in the context of the music. Ginormous is understated and minimalist, betraying an understanding that a sparse timbre works better to let the ideas behind the music breathe. With this in mind, Yamanoha makes sense as a new iteration of the singer-songwriter trope, except instead of a battered guitar, he wields synths and reverb.
The whole album is intensely intimate, from Paz Maddio's closely harmonised vocals on 'In A Glass Jar' to the quiet optimism of 'We've Never Been This Far Before'. 'Spomenik' is a standout track; a musical tribute to the abstract brutalist statues built in Yugoslavia under Tito to commemorate the losses under German occupation. From the echoing percussion to the humming synth melody, it conveys a quiet admiration that such man-made structures can evoke the presence of sublimity. On Ginormous, Grimm Grimm pays tribute to the great indie bands for introverts (Can, Belle & Sebastian, Beach House) while adding another name to their ranks. The perfect album for an introspective rainy day.