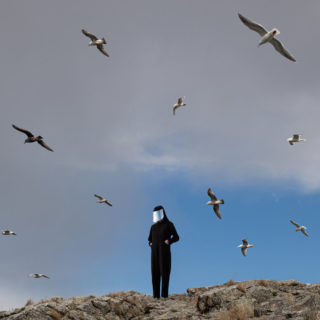 Hamerkop's debut album, Remote, was inspired by Annabel Alpers' collection of field recordings from her New Zealand homeland and travels around the world. It's a conception that's not immediately obvious from the three opening tracks, which are very much a continuation of her previous work with Bachelorette. This results in hazy electro-dreampop that sounds like it was recorded on cheap, vintage synths and drum machine. Pleasantly nondescript, tracks such as 'We Can Wing' could be Beach House if not for audio engineer Adam Cooke's motorik drumming.
Things get more interesting when Alpers and Cooke shift their energies towards psych-folktronica. Here the tracks are layered and looped with floating vocals and shimmering synths that pan from speaker to speaker. Interwoven throughout is the burble of conversation and the crackle of a bonfire, most notably on 'TINY' and 'Mourning Bells'.
These field sounds help to give the Baltimore-based pair a sense of place and mood, be that the drifting fug of Clear Horizon on the title track or the slightly eastern feel to 'Polisher'. At its best when it fuses these samples with the pop sensibility of Alpers' early work, Remote tends towards sonic wallpaper when it doesn't get the balance right.