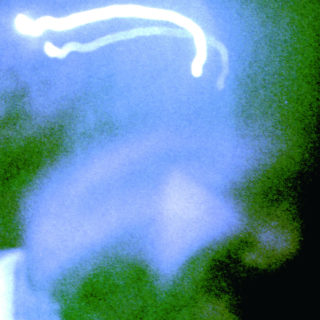 Manchester's DIY underground hasn't been short of innovative music recently, and now three former members of DUDS have formed a collective known as Handle, described by vocalist and visual artist Leo Hermitt as, "a synthesis of experience… we're capturing movement". Fittingly released on the Upset the Rhythm label, the swirling, violent tempos on their cathartic debut album, In Threes, move between the fringes of art-rock and post-punk.
Echoing the post-punk cytoplasm of Sextet-era A Certain Ratio and the frenzied drawls of ESG, the LP speaks to a higher power of sound manipulation and poetic formation. 'Step by Step' combines an unstoppable rhythm and infectious energy, recalling the vocal yelp of bands such as The Slits and Public Image Ltd. Employing abstract lyrics with jagged, avant-garde tempos, such as on the explosive track 'Lifeswork' ("Definition definition, useless useless information"), we are taken on an instantly addictive journey of swirling patterns. Handle also make use of DUDS' affinity for sound manipulation, the almost hysterical sax on 'Mhmm' keeping the tempo chaotic as they make use of avant-funk percussion. The frenzied guitar riffs of 'In Tension' and abstract slam-poetry of 'Punctured Time' make for an explosive, other-worldly listen that never settles in one place.
'Describe' ends things on a definitively experimental note, with off-kilter, tinny percussion and ominous bass. The resolutely DIY quality of Handle, paired with their focused, angular vision, makes for an endearing and triumphant debut.
Free Protomartyr flexi disc with this month's magazine
Subscribers to Loud And Quiet now receive a limited edition flexi disc of a rare track with their copy of the magazine
This month's disc is from Detroit punk band Protomartyr