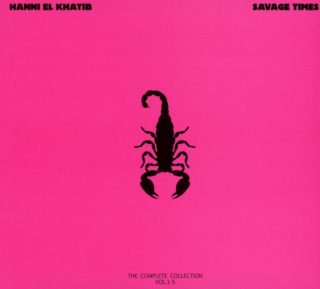 Hanni El Khatib
Savage Times
6/10
Hanni El Khatib is not a man who exhausts easily, as evidenced on his latest offering 'Savage Times', an extensive compilation album bookending the past year of his life, during which he toured the world while writing, recording and releasing a series of EPs. Throughout the 19 songs, the Californian songwriter shows his love for bluesy rock jams and occasionally tests his stylistic bounds. It's over an hours' worth of material that bridges the gap toward his next significant release.
From the moment the visceral 'Baby's OK' opens the album, Khatib's energy and enthusiasm rarely stifles, as he effortlessly matches his raspy vocals with fuzz-coated riffs and a punk liveliness that feels indebted to the likes of early 2000s-era White Stripes and The Strokes. The title track and the psych-tinged 'Mangos and Rice' continue the trend, and despite some uninventive lyrics, he still belts out some infectious chorus' that will likely to become staples at his often chaotic live shows.
The breezy indie-rock of 'Paralyzed' and 'Gun Clap Hero' are less raucous, but still infectious and fun, giving a summer-friendly twist to his sound, but unfortunately it isn't long before the album starts to lull with tracks that are just passable rather than exceptional. 'Miracle' and '1 AM' feel like amateurish interludes, and 'Born Brown' has the potential to be intense, but the short runtime and doomy, paranoid electronics make it feel out of place and more like a momentary outburst of frantic vocals and synths.
A few missteps and the long lifespan means 'Savage Times' feels slightly scatter-brained at times, but more than anything this album feels like the talented Khatib warming up for something bigger, he's just not quite there yet.