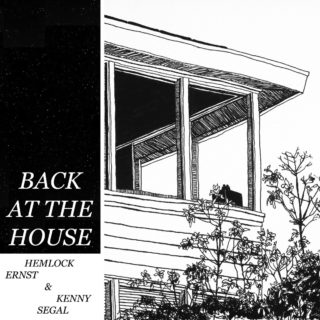 Hemlock Ernst
Back At The House
5/10
Currently in theatres is Gemini Man, a movie starring Will Smith as a hitman and Will Smith as his younger clone. The movie is mostly a tech demo, where one of our greatest directors (Ang Lee) along with one of our most charismatic stars put their considerable talent into a lifeless story, the result being akin to Michelin Star chefs making a Big Mac. Sadly related to this is Back At The House by Hemlock Ernst (with beats from producer Kenny Segal), the debut rap album from Future Islands frontman Sam Herring: a technical experiment that serves to impress rather than convince.
Future Islands are a good band with fantastic stage presence, and a lot of that is down to Herring and his endless energy. Throughout the album you can hear his proficiency on the mic: he's been rap battling for twenty years but that experience feels like a detriment here. Tracks often have the feeling of a cypher, which are sadly rarely engaging outside of the live context. It's all similar flows and cadences which means the album kind of just sits there, an argument for how fast rapping isn't the same as interesting rapping. It's not annoying, nor does it give the sense of trying too hard, but it does end up sounding like background music to a skills show video.
There's value here, but it all comes with a caveat: 'Less Unsettled' is a poignant closing statement to a thesis that the rest of the album doesn't provide; 'Addicted Youth' is a song that offers experience on addiction, but it has two of sadly few lines that stick out ("Yoo many cops are criminals/ And that's a metaphor but it's a true story").
This is kinda the Rosetta Stone of my issues with the album: the entire thing feels like Herring's intent to say something – both as an MC and a storyteller – yet he backs away from anything that could make the album feel alive or incisive, which means we never get out of first gear.
"The guy from Future Islands is a good rapper," is an interesting sell but it feels like Herring's unconvinced by himself, never straying too far from his comfort zone and his single technically stellar flow.
But for all of my mixed feelings, there's definitely potential here, and I'd like to see Herring release another tape: one that feels like more than a proof of concept.
Please support Loud And Quiet if you can
If you're a fan of what we do, please consider subscribing to L&Q to help fund our support of new musicians and independent labels
You can make a big difference for a few pounds per month, and in return we'll send you our magazines, exclusive flexi discs, and other subscriber bonus bits and pieces
Try for a month and cancel anytime