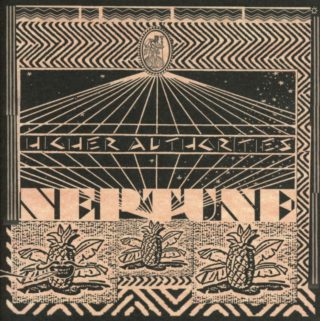 Higher Authorities
Neptune
(Domino)
6/10
Like Mac DeMarco releasing 'Salad Days' on April Fool's Day (when else?), this new Liverpudlian psych outfit are deliberately releasing 'Neptune' on 20th April – Christmas Day for stoners. You can understand why, too; it is a woozy trip of an album, eschewing typical electronic structures and instead weaving intricate synth lines in and out of each other to create a musical backdrop that oozes menace.
Their online presence is vague, but the band apparently comprises Ade Blackburn and Hartley of cult art-rockers Clinic, with dub icon Adrian Sherwood behind the mixing desk. His presence weighs heavily, especially on 'Monocle Man' with its squelching, off-kilter beat and 'The Clone', which simmers with tension. In places, the duo lay things on a little too thick, like on lead 'Colour', which threatens to collapse under the weight of its own rapid move through the synth gears, or the messy closing one-two of 'Decades' and 'Neptune'.
Still, this is a genuinely adventurous electronic record in a world awash with groups who only think that they are experimental.
Free Protomartyr flexi disc with this month's magazine
Subscribers to Loud And Quiet now receive a limited edition flexi disc of a rare track with their copy of the magazine
This month's disc is from Detroit punk band Protomartyr