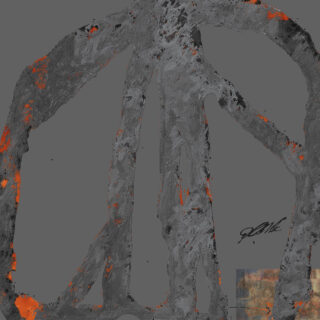 Over the last few years, Brian Leeds aka Huerco S. has become a central figure of ambient music's new school, even as he's receded further into its background. His second album, 2016's For Those of You Who Have Never – surely a 'breakout hit' if the genre has one – feels like a lifetime ago, a nuanced realisation of Leeds' subtleties as a composer that still seems loud and brutish compared to the divine magic eye paintings of his more recent work under the Pendant moniker, released unceremoniously alongside the likes of Mister Water Wet and Serwed on Leeds' own West Mineral imprint.
So, the most notable thing about Leeds' fourth album Plonk is, fittingly for its title, percussion – not the stifled kick heard from outside of a club, but sharp, laser-focused hits and stabs straight to the ear holes. The opening tones of 'I' are the first strike in a flurry of tinny strings, accelerating and decelerating like so many attempts at starting a car. Oddly, it allows for an accommodating way into the record, like enormous creaking gates into a world of twisted metal and scattered scrap. If you squint, there are some marvellous structures in there. The episodic presentation of Plonk as a ten-part work – like so many sculptural studies in the same gallery display – plays well into the overlapping atmosphere of each track, such as in the pseudo-D&B arrangements and re-arrangements of 'II' through 'IV', each an amorphous Aphex/Oval fugue given an analogue acid hue by the unpredictability of its ramshackle drum programming.
It's tempting to think of Plonk as the Huerco S. 'dance' record, but it's more like the elements of his past work have finally been galvanised into a levelled-up version of what we heard back in 2016. This is evident even as the album slips back into the ambient mode towards the latter half. Stronger even than the luminous 11-minute closer is the penultimate song, a haze of beat poetry-meets-tone poetry which sees guest vocalist Sir EU sparring with the flow of Leeds' prickly, abstract rhythm.
The gulf of difference between Plonk and what came before seems superficial at best – but the discrete parts that run the Huerco S. vehicle are still as intricate and beautiful when they're strewn about the floor. Even as Leeds evolves as an artist, it's encouraging to find that he's still in hot pursuit of hypnotic transcendence via the scenic route. 
Please support Loud And Quiet if you can
If you're a fan of what we do, please consider subscribing to L&Q to help fund our support of new musicians and independent labels
You can make a big difference for a few pounds per month, and in return we'll send you our magazines, exclusive flexi discs, and other subscriber bonus bits and pieces
Try for a month and cancel anytime