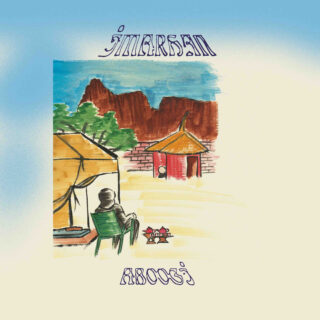 In 2021, the population of Tamanrasset, the chief city of the Algerian Tuareg, reached 108,289. At the beginning of 2019, the construction of the city's first ever professional recording studio began under the supervision of local rock outfit Imarhan. Upon completion, the Tuareg rock quintet named it Aboogi, paying homage to the early structures that helped form their ancestral villages. It was in this self-built studio where the group captured their finest musical ideas to date. It was only natural, then, for them to use the name for their third LP, Aboogi. 
The significance of their hometown to Imarhan is integral to these brilliantly diverse compositions. There's an elevating sense of community embedded in the record, providing an overarching cohesion across its duration. Whether it's a demonstration of unity via layered harmonies on 'Assossam' (where collective voices explore economic corruption served by the government) or excellent individual contributions from Tinariwen's Abdellah Ag Alhousseini ('Tindjatan'), the wisened cadence of the poet Mohamed Ag Itlale on 'Tamiditin' or the unexpected appearance of Gruff Rhys singing in his native Welsh tongue on the mesmerizing closing track, 'Adar Newlan'. 
Whilst Imarhan's sound is firmly rooted in the traditional Tuareg style, Aboogi is an assured presentation of instrumental range. An abundance of infectious hooks exist in the masterful performances throughout 'Adar Newlan', 'Achinkad' and beyond. Compared to their previous output, however, Aboogi is a far more introspective proposition. Wistful blues inflections colour guitar tones on the enveloping 'Temet' and 'Imaslan N'Assouf'. The latter, with an irresistible rippling tremolo permeating the arrangement, is one of the immediate highlights from the LP. A gripping body of work from the outset.
Free Protomartyr flexi disc with this month's magazine
Subscribers to Loud And Quiet now receive a limited edition flexi disc of a rare track with their copy of the magazine
This month's disc is from Detroit punk band Protomartyr