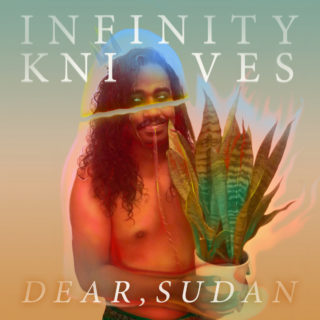 Infinity Knives
Dear, Sudan
8/10
"Music has always been my medium," claims Tariq Ravelomanana, the producer and musician also known as Infinity Knives, in a statement attached to his debut album. One listen to Dear, Sudan is enough to confirm that claim. Ravelomanana is based in Baltimore, where he moved from Tanzania (via Kenya, South Africa, and Madagascar) as a teen, and has existed in the underground of the city's music scene for years: touring with JPEGMAFIA, collaborating with rapper Brian Ennals, and most recently starting experimental post-rock band LORIS. The self-produced Dear, Sudan encapsulates these references and many more, showcasing Ravelomanana's deep love – and knowledge of – a range of genres, from classical, to hip hop, to ambient, and his ability to cherry pick from them to build a sonic language for Infinity Knives. This is most evident on lead single 'In The Mouth Of Sadness', which feels like an instant classic; a sensual alt-R&B banger in the vein of Jai Paul, Blood Orange or Silk Rhodes; crashing drum beats and hypnotic vocals (contributed by fellow Baltimore artists Bobbi Rush and Tyler Moonlight) which dissipate into a wistful instrumental.
Parts of the record feel reverent and almost operatic, like the soaring 'Sway Me, Sway Me Into The Arms of The Lord', and the delicate 'Für Arvo (in 2025)', presumably an ode to Estonian classical minimalist Arvo Pärt. Yet there's a sense of sardonic humour woven throughout Dear, Sudan, which goes beyond naming one of its most beautiful tracks 'Dis Dumbass Ghost'. Much of the comic element comes courtesy of Ennals, whose lyrical contributions to 'Drug Dealer, Drug Dealer', 'Brians #1' and 'Black Addicts' add a vital energy to Ravelomanana's compositions. On the latter, Ennals tackles police brutality with characteristically dark humour, snarling "From a small town called fuck a black cop, and you're making me homesick".
What's remarkable about Dear, Sudan is how well these disparate parts fit together to form a cohesive album, carrying the listener effortlessly from track to track, immersing you in Ravelomanana's sonic universe. It's hard to believe this is the first we've heard of Infinity Knives. With any luck, it won't be the last.
Subscribe now. Cancel anytime
Go on, give us a go
We love making Loud And Quiet – our magazines, this website, our podcasts and more – but it's become increasingly difficult for us to balance the books.
If you're a reader who'd like to help us keep the show on the road, please consider becoming a Loud And Quiet subscriber. There are options to receive our physical magazines and lots of other extras that are exclusive to our supporters.