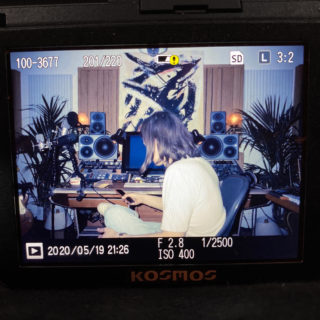 As one half of the production duo Jungle, J Lloyd had already mastered the art of tastefully whittling soul and funk into a pop format. His debut solo mixtape, recorded during isolation, acts as an intimate and laid back chance for fans to peer into his writing process. There are two ways you could approach the mini-song mixtape. One is to build each moment so it flows into the next. The other is to create distinct scenes for the listener. Kosmos takes the former strategy. Lloyd moves idea to idea across twenty-five miniature tracks, each one written right after the one before it. It's a more wandering and explorative direction for him as a result, and a chance for listeners to hear him figuring out a song's structure on the fly. 
There's barely a break in mood across the project, making for a cohesive, slightly faint listen. Low-key doesn't have to be a negative, though. Kosmos is a texturally rich offering, soaked in effects and charm, opting for a blown-out sound that fans of Jai Paul, Washed Out and the more vibey side of Tame Impala will enjoy. Cuts like 'Glorious', 'Mysteré', and 'Crushed In' are little nuggets of joy, proudly sitting with a hook and little else. Some other moments are not as distinct, with the hazy spoken word cuts like "How Far???" drifting a bit too far into the background. As a high-production mixtape, there's a lot to like in Kosmos. Taken as a whole,  it doesn't quite live up to the freshness of the projects it's influenced by.
We're not being funny...
… but can you become a member please?
It's actually excellent value, and will help us continue to promote new independent artists and labels.
Sign up and you'll receive our physical magazines delivered to your door, our digital editions, exclusive podcasts and playlists and an actual bookmark, as if printing a magazine in 2021 wasn't old fashioned enough.
6-month and full year memberships are available now. Fancy it?