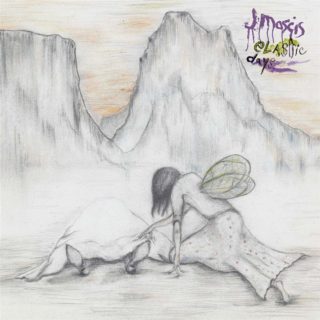 In front of a couple of flat-topped mountains – half looking like a desert crag, half like the BFG's dining-room table – a drawing of a grown woman in fairy wings is prodding the sleeping feet of someone covered by a rug. The artwork attached to J Mascis's 'Elastic Days' looks like the emo-kid's sketchbook descent from 2014's 'Tied To A Star' (a comically glum scene of furry owls with feet and horns) and 2011's 'Several Shades of Why' (a furry ghost floating on half an upturned coconut). It's an unsurprisingly awkward scene for a vocalist who you can imagine feels a little embarrassed about the switch to acoustic introversion from a career shied away in 30 iterations of the same muff and fuzz pedal with Dinosaur Jr.
Vocally J Mascis sweeps into 'Ghost Tropic'-era Jason Molina or 'Lousy Dance'-era Simon Joyner – mopey and nostalgic, scant but surprisingly self-assured. Reclining in a sturdy routine of vocal warm-ups for a reformed Dinosaur Jr's touring schedule and singing lessons, it's a less didactic approach to being a slacker. It's also oddly melodic. The brilliant opener 'See You At The Movies' is wry with self-denigrating couplets like "Finding you was easy / Finding me is hard" and "I don't peak too early / I don't peak at all." J later admitted in an interview that the album actually does peak here.
It's not strictly true. Ken Miauri's keys create a triumphant fully-textured alternative to Mascis' penchant for major guitar outros on 'Drop Me' (although it also sounds like someone's kid has got to the final peg of the piano and is just constantly pressing it), and 'Picking Out The Seeds' takes the singer's vocals to a captivatingly wistful falsetto. 'Everything She Said' seems to acknowledge all the criticisms that will be lodged at 'Elastic Days'. Each song is built with the same base structure; a '90s jam-session that's found its way into the new world where originality is applauded no matter what. As he sings "I wanted to build the same mistakes," he dutifully falls into the same unoriginal pit hole as 2014. But that doesn't matter. This is just a bit of fun, isn't it?
Free Protomartyr flexi disc with this month's magazine
Subscribers to Loud And Quiet now receive a limited edition flexi disc of a rare track with their copy of the magazine
This month's disc is from Detroit punk band Protomartyr