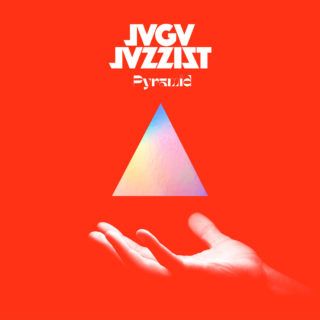 For all of Jaga Jazzist's legendary status in their Norwegian homeland, the octet's impressive career, now buoying into its fourth decade, can be characterised by a distinctly American sound. Their 2001 breakthrough album A Living Room Hush was aptly named for the lounge; Jaga's retro space-age jazz could have come straight out of New York's smoothest bar in any of the last sixty-plus years, albeit flecked with endless surprises from experimental IDM and techno to hip-hop and scratching. Their catalogue's come to epitomise a breed of lounge music wholly non-reliant on humdrum to mute any underlying mediocrity. 
Jaga's ninth studio album Pyramid showcases the eight-piece's unrelenting consistency alongside a series of firsts; their debut release on Flying Lotus's Brainfeeder label is also, more notably, their first self-produced record, parting ways with frequent collaborator Jørgen Træen and their usual meticulous perfectionism. Created in two weeks with eight different voices to satisfy, Pyramid is perhaps most impressive in its lack of conflict. But that's also its main disappointment; within a theoretically new, creatively explosive environment, Pyramid shrinks back into routine and largely find arid ground. 
Composed as four "small symphonies", Jaga unspool their post-rock, cosmic-jazz and plush, cinema-ready bossa nova as if it were still the turn of the century. 14-minute opener 'Tomita' is a sprawling nod to Japanese space-music pioneer Isao Tomita, that lands on the wrong side of city pop and AOR totally free from celestial mystery. 'The Shrine' is perversely contained within its own structure, given that it's an apparent ode to Fela Kuti's iconic Lagos club and the birth of afrobeat through free jazz, funk, salsa and highlife.
Only on closing track 'Apex' do Jazzist find their stride, with marching band electronics and audible gear-shifts that hark to the best of their electronic krautrock fusion. Elsewhere, in trying to ease out the joy of their collaborative process, Jaga sound a bit too nervous to please.
Free Protomartyr flexi disc with this month's magazine
Subscribers to Loud And Quiet now receive a limited edition flexi disc of a rare track with their copy of the magazine
This month's disc is from Detroit punk band Protomartyr