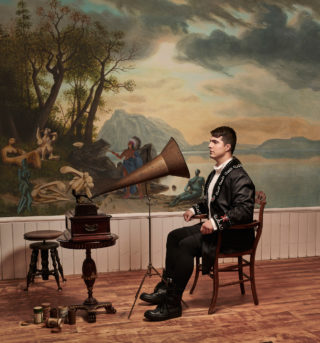 Jeremy Dutcher
Wolastoqiyik Lintuwakonawa
8/10
MySpace recently revealed that it had – literally overnight – deleted 12 years' worth of music posted to its servers. Over a decade of music history lost forever, just like that. It's pretty sad, but it's nothing compared to what's been happening to the Wolastoqiyik – indigenous peoples of New Brunswick, Canada – who have had to watch a much more gradual dissipation of their culture. Over the years they've faced pressure from the Canadian government to shed their traditions in order to integrate, and as a result there are currently fewer than 100 speakers of their native language remaining.
Enter Jeremy Dutcher. A classically trained tenor, and a descendant of the Wolastoqiyik, he has transcribed wax cylinder recordings of his ancestors' songs from 1907 and brought them back from the brink. With the utmost reverence for his community, Dutcher fleshes out the music with contemporary flourishes and pop melodies amongst samples of the original recordings. These generation-spanning duets transcend the language barrier; you can hear every triumph, every heartbreak, Dutcher's ancestors sang of over a hundred years ago in his bracing vocals. Wolastoqiyik Lintuwakonawa is a living record of an endangered language but, more than that, it's the preservation of stories that would have otherwise soon been lost to time.
New monthly memberships available
Here's a new thing: our membership scheme now has a pay-monthly option, plus a load of exciting new digital stuff for people who support what we do. It's actually excellent value, honest, and will help us continue to promote new independent artists and labels.
Sign up and you'll receive our physical magazines delivered to your door, our digital editions, exclusive podcasts and playlists and access to our EXTREMELY glamorous Members Lounge. You'll be the envy of all your friends.