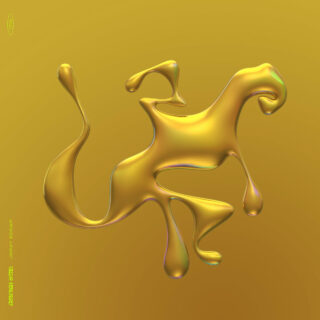 Jimmy Edgar
Cheetah Bend
6/10
Detroit producer Jimmy Edgar has been a versatile and dependable voice in electronic music for years. He's capable of adapting to and embracing new sounds with the kind of energy and enthusiasm that's rare for a chameleon producer of his calibre. From the glitchy dance jams of Colour Strip through to J-E-T-S, his blissed-out take on R&B with Machinedrum, Edgar has never sounded jaded. Cheetah Bend is his first solo album in nearly nine years. His childlike sense of fun bleeds through every moment. 
Cheetah Bend might be a solo album, but it's not a lone venture. Edgar enlists likeminded eccentrics and personal heroes like Danny Brown, the late, great SOPHIE, and Hudson Mohawke to add their magnetism to what is largely a celebratory party record. These are brash club bangers shifted into cartoony forms.
Given that description and those names, you probably know what you're getting here. The "maximalist sound/minimalist execution" approach to bass music has been bubbling up for about a decade. Danny Brown's contribution on 'Get Up' could have easily slotted onto Old. TNGHT came out before Spotify was really a thing. The SOPHIE-featuring 'Metal' shares its DNA with a live track that's been floating around the internet since the PRODUCT era. Cheetah Bend certainly isn't the freshest take on this sound, but it's no less full of heart. 
Part of the joy of Cheetah Bend is just how freely it pulls from all over the genre map to get its kicks. 'ZIGZAG' combines slow-motion trap with the lewd synth funk of Magenta in a way that's genuinely thrilling. Matt Ox might be the hungriest he's ever sounded on 'PAUSE'. With a beat as ridiculous as what he's rapping over, it's no surprise. We work our way back to syrupy R&B on 'CRANK', and the production is no less adventurous and showy, which is the reason we're listening to a Jimmy Edgar record, after all. 
Admittedly, Cheetah Bend is a disjointed collection. These are tracks that were likely made at random intervals over the past decade, bounced across file-sharing sites and hard drives until they found their home here. Still, at its best moments, you feel like you can hear Edgar beaming at the joy of beatmaking, and you'll likely be doing the same. 
We're not being funny...
… but can you become a member please?
It's actually excellent value, and will help us continue to promote new independent artists and labels.
Sign up and you'll receive our physical magazines delivered to your door, our digital editions, exclusive podcasts and playlists and an actual bookmark, as if printing a magazine in 2021 wasn't old fashioned enough.
6-month and full year memberships are available now. Fancy it?