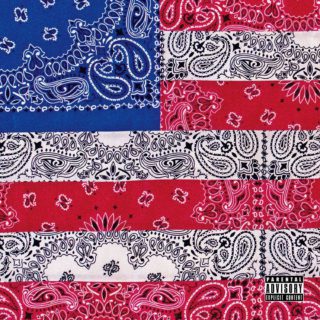 Joey Bada$$
All Amerikkkan Bada$$
9/10
I spent last summer in New York City, writing in the sticky Harlem heat, my fingers moving slowly under the oppressive weight of the sun — and all anyone could talk about, when I took to the streets in search of an ice water, yoga class or street party, was Joey Badass. Brooklyn's home grown rapper is old-skool authentic: Bred on the city streets, he's a member of the Pro Era crew with a deep, slow flow and a fierce political anger that runs under his tracks like hot sparks fizzing off an electric cable. At a summer party in Bedford Avenue a huge throng gathered outside Sweet Chick — the chicken and waffle restaurant endorsed by Nas — barely containing their excitement as we waited for Joey Badass to perform (the rumours of this secret gig had spread even far enough to reach my just-landed, jet-lagged English ears).
Joey's second studio album 'All Amerikkkan Bada$$' drops this week (7 April), and it confirms his status as one of the new generation hip hop royalty. He spits lyrics that spill over with cynicism for the political system at large (and Donald Trump in particular, for whom Joey expresses disdain on just about every other track), and focus on the racial tensions plaguing the USA in recent years. The 'kkk' in the title references the country's history of racism and suggests that Joey has honed his sense of self in hostile national conditions.
Still, the album also manages to convey an incredible sense of optimism: Of love and hope in the face of a bleak social and political landscape. On 'For my People' he appeals for a space to live peacefully, while the bleak yet hopeful 'Land of the Free' weaves joy and sadness to convey a mash-up spirit of hope and despair. Meanwhile collaborations with J. Cole, Schoolboy Q, Meechy Darko, Styles P and his Pro Era mates Kirk Knight, and Nyck Caution (on the masterful 'Babylon') merge to make this one of my favourite albums of the year so far.
Free Protomartyr flexi disc with this month's magazine
Subscribers to Loud And Quiet now receive a limited edition flexi disc of a rare track with their copy of the magazine
This month's disc is from Detroit punk band Protomartyr