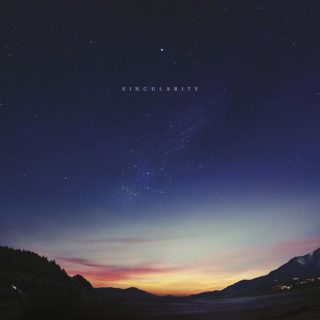 Jon Hopkins
Singularity
(Domino)
9/10
'Singularity' begins and ends on the same note. It's a small, seemingly trivial detail but it's one that subtly and instantly defines the album. Hopkins' initial vision for it was one of hyper-connection; each track interlinked to create an ecosystem where beats emerged from melody and bass bloomed from atmospheres in kind of amorphous evolution. But that didn't happen.
Frustrated by the technical inhibition of that process, he abandoned it – in fact, Hopkins largely abandoned the idea of following any process at all. Instead, 'Singularity' is a reflection of him finding inspiration in meditation, Tibetan breathing techniques and an exploration of psychedelic states.
Even with all of that transcendental freedom, there are still the details you expect from a producer with Hopkins' meticulous approach. So, where Ross Tones (aka Throwing Snow) looked to nature and a selective use of field recordings to create a digital cycle of life, death and rebirth on last year's brilliantly ambitious 'Embers', Hopkins applies similarly technical nuances here – from a thunder recording tuned to become the sub bass in the title-track to the call of a Scops owl reimagined as the melody in closer 'Recovery', to recording two pianos then painstakingly cutting them together, note by note.
It sounds lofty and a bit conceited, but Hopkins is no stranger to conveying (and nailing) a broader concept. The success of his fourth album, 'Immunity', came armed with the intent of mirroring the story of a night out, and while his initial ambition for 'Singularity' didn't work, it's not too surprising to discover he dived deep into something else.
"I got obsessed with the idea of connectivity – of a single note drone acting as a bridge between tracks and moods," he explains. "This record [is intended] to be listened to in one sitting, as a complete body of work. It's designed to follow the build, peak and release of a psychedelic experience."
Listen to Jon Hopkins discuss his meditative experiences on the Loud And Quiet podcast – Midnight Chats
So, if that single note bookend brings his concept of connectivity to life in a very audible way, he also makes it fairly easy to connect the dots throughout the rest of the album. Tracks like opener 'Singularity' and 'Neon Pattern Drum' heave into soundwave slow life, 'Emerald Rush' bathes and soars in a static-laden angel chorus, while the choral euphoria of 'Feel First Life' and the plaintive piano calm of 'Echo Dissolve' offset the punctuated, thudding beats with gentler moments of reflection.
These tracks are essentially Hopkins' field notes from a higher state; points plotted on an arc that are propelled by singular intensities but co-exist as one universal thrum. And as the album's apex, 'Everything Connected' embodies that intent as a 10-and-a-half-minute "techno bastard" that picks up on the brutality of 'Open Eye Signal', sweeps to the mountain-top then plunges into stormy subterranean depths and writhing frequencies.
It sets up the latter half of the album for respite and reset with the undulating majesty of 'C O S M' pulsing with a force that sits just below the surface of sunshine bursting through trees, light refracting and feeling the blood pulse through your veins before the grinding electronic intro of 'Luminous Beings' gradually cedes to soft sub bass and floating melodies and, eventually, the soft finale of 'Recovery'. As a standalone track, the latter seems incidentally light compared to what precedes it, but as the album's climax and realization of Hopkin's instinctive sonic journey, it's importance becomes clearer in the aftermath as its final, hanging note completes the cycle. 
Harsher critics may argue that that commitment to the concept means the latter half of the album tails off, but if these tracks were created with the intent of capturing one fluid experience, you expect a producer as scrupulous as Hopkins has had his eye on how 'Singularity' comes to life on stage. And with the monstrous techno heft of tracks like 'Everything Connected' and the suspended transcendence of 'C O S M' hitting hard on record, the prospect of those being amplified and reimagined through giant sound system speakers promises to be colossal.
"I experienced such joy and freedom making this music," Hopkins say, "the process has felt like a beautiful exploration of shared consciousness. It has guided me through the last two years."
You don't have to believe in the transformative or research the 'Wim Hof Method' the way he has to truly understand the album, because if you strip away the concept, 'Singularity' still stands as a collection of tracks that power through everything from rugged techno and transcendent choral music to solo acoustic piano and psychedelic ambient that resonate beyond meditative exploration. But stick with Hopkins' vision and his open-minded take on an altered state becomes an experience that reveals itself a little more with every glorious listen.
Please support Loud And Quiet if you can
If you're a fan of what we do, please consider subscribing to L&Q to help fund our support of new musicians and independent labels
You can make a big difference for a few pounds per month, and in return we'll send you our magazines, exclusive flexi discs, and other subscriber bonus bits and pieces
Try for a month and cancel anytime