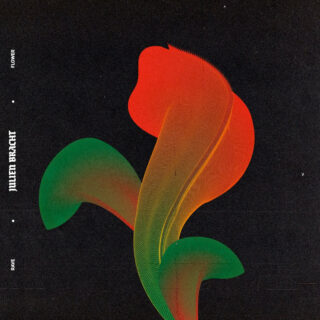 Julien Bracht
Rave Flower
(System)
7/10
Short of extending the audible spectrum, the hope for a 2020s musician to invent a sound all of their own is vanishingly slim. For many, though, the harvest still to be reaped in the fields that have been planted over the last century remains irresistible, and Berlin techno producer Julien Bracht is becoming expert at re-imagining the parameters of his own furrow. Bred on what he describes as the "big room raves" of the 1990s and '00s, Bracht outlined his own vision for contemporary techno on his 2021 debut Now Forever One. Now, on Rave Flower, the fruits of his own version of this old form are now blooming.
'Across the Ocean' oozes the sound of ecstasy-driven Berlin. Its lulling, hypnotising production evokes a certain nostalgia; indeed, it elucidates the fact that techno and its extended family are as close to a musical approximation of actual human nostalgia as you're going to find, with their wordless swells of emotion that build slowly and conclude at open-ended, inexact endpoints, and their power to connect and ground you with memories of places of warmth, abandon, love and hope. There is great comfort to be felt in Bracht's craft here – he gestures toward a sense of danger, a frisson of tension, but this is a love letter to a form that he and others are keeping ablaze.
The subwoofers are flaring and the menacing, madcap energy of jungle is circling the edges as 'Don't Chase Your Enemies' changes the mood, the music entering that pupil-dilating, deep-night stage. The classic techno of 'Mode Flower Rave' draws us in further with its endless restlessness. Tortured, highly compressed vocal samples swoop overhead, while Bracht lays in a groove so deep you can feel the spring in its virtual dancefloor.
'Rave Gene' takes place in that hidden room at the back of the venue, that whispered-about, phantom place that you can't go to, you can only find yourself in. Music developed differently in there, as if having passed through The Shimmer from Alex Garland's Annihilation. This is rave music, okay, but it is also 2022, and while generations of devious sonic manipulators in this world have come and gone, Bracht proves that for the new wave, there is still plenty more that can be said.