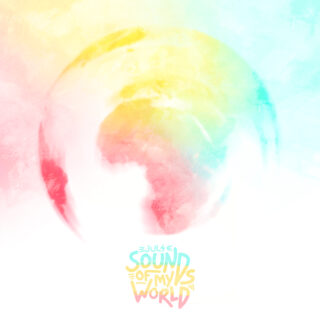 Juls
Sounds Of My World
7/10
Over the last decade, few have done more to help advance afrobeats and the diaspora of African music into the mainstream than Juls. Both a fierce advocate and wary guardian, he's intentionally pushed the sounds of African pop and Soweto amapiano forward, but like any true producer, his gift lies in blending the music closest to his heart with an even bigger spectrum of sound. It's an intentionality that makes Sounds of My World as autobiographical as its title suggests, Juls acting as the lightning rod bringing everything and everyone together, whether it's in one of his effortlessly smooth DJ sets or a laidback session.
And that sense of communal creativity extends throughout the album with every track here co-powered by a cameo or collaboration. Nigerian rapper WizKid appears on 'Close to Me', Ghanaian singer King Promise lends his talents to 'My Size', and Kenyan afro-pop group Sauti Sol feature on 'Mare'. From baile funk to reggae, dancehall to R&B, it's the collective rhythm and energy of a continent made meditative and mellow on 'Summer in the Ends', bass heavy and restrained on 'M.O.O.D', percussive and acoustic on 'Love Language'.
Whether he's pulling music from Nigeria, Ghana, Kenya or Cape Verde, there's pride and purpose, each track an education. As the album title suggests, this careful, determined curation of divergent sounds is simply the way Juls hears and experiences the world. He just wants more of us to hear what he does.
Free Protomartyr flexi disc with this month's magazine
Subscribers to Loud And Quiet now receive a limited edition flexi disc of a rare track with their copy of the magazine
This month's disc is from Detroit punk band Protomartyr