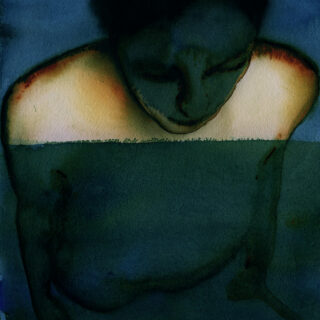 'Atmospheric rock'. What does that really mean? Too often, groups aim to create a vibe through nothing more than a well-stocked pedalboard, hiding their lack of an authentic voice behind walls of sweeping, unholy reverb.
Like many before them, Just Mustard could have very easily fallen into this trap. Instead, the Dundalk group have quickly managed to elevate themselves above the pretenders. Heart Under, their second album, breaks free from the shackles of the echo chamber with ten tracks of superbly haunting, sonically aggressive, neo-goth murk.
The hopeless siren call of '23' set things up early doors. The track crawls deep into a cavern of sound before caving in on itself with a moment of careless destruction, prepping us for a lonely old trip into the abyss. The group's extremely moody disposition continues throughout the album, propelling the listener forward through the darkness. 'Still' and 'Seed' are so gloomy you can almost hear the dry ice. The former slides around like the soundtrack to your new favourite Scandinavian crime drama, while the latter hurtles towards the hellscape in twisted delight. The track's furiously hollow guitars slowly disintegrate, reducing noise to mere feelings, in the best possible way.
Just Mustard are a band completely at one with their sound, and with Heart Under they have well and truly mastered the art of atmospheric rock. Not bad going for a second album – not bad at all.

Free Protomartyr flexi disc with this month's magazine
Subscribers to Loud And Quiet now receive a limited edition flexi disc of a rare track with their copy of the magazine
This month's disc is from Detroit punk band Protomartyr