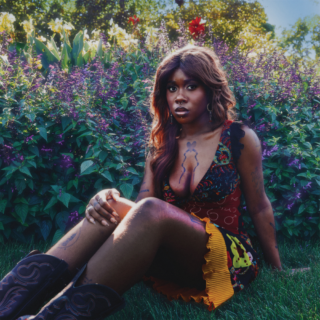 Kara Jackson
Why Does the Earth Give Us People to Love?
8/10
"Every man thinks I'm his fucking mother," bemoans Kara Jackson on 'Therapy', with the bluntness and sardonic wit that defines the Illinois musician's debut album. 
Recorded in her childhood bedroom during the pandemic, much of the material retains a lo-fi quality. Opening with the sound of a cassette being clunked into a deck, an acoustic guitar or simple piano note are often the integral backing. This is despite her subsequently reaching out to friends such as Nnamdï and Kaina to re-record the demos, shape the production, and add strings to several tracks.
Largely sidestepping conventional verse-chorus-verse structure, there's a focus on words that's to be expected from someone who served as the third US National Youth Poet Laureate. Influenced by poets Sharon Olds and Lucille Clifton as much as Fiona Apple and Megan Thee Stallion, the arrangements shift around a world-weary delivery that was designed for cheap bars and cigarettes.
There may not be any big choruses, unless you count devastating one-liners that double as self-help manuals, but this music has substance. There are alt-country slide guitars on 'Pawnshop', jazzy piano ripples on 'Free', and 'Dickhead Blues' twists into a Broadway number halfway through. The astute use of instruments to emphasise lyrical delivery is typified on 'No Fun/Party', which turns on a knife edge from strings to sparse banjo for its dénouement. 
A collection of songs about love and relationships, the album is also about self-discovery. She's not far wrong when she has the revelation that, "I am pretty top-notch."
Free Protomartyr flexi disc with this month's magazine
Subscribers to Loud And Quiet now receive a limited edition flexi disc of a rare track with their copy of the magazine
This month's disc is from Detroit punk band Protomartyr