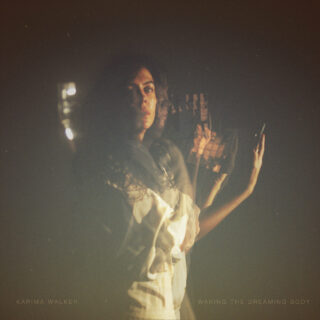 Karima Walker
Waking The Dreaming Body
7/10
There's been plenty of time to think lately. By now we've all been stuck inside for the better part of a year, and once breadmaking has lost its charm the only thing you've got left is pondering your place in the universe.
In Karima Walker's case, the lockdown has clearly been a period of deep self-reflection – and a pretty productive one at that. Originally intending to record at the tail end of 2019, first personal illness and the global pandemic ended up kiboshing all that, forcing the Arizona native to record this from her home studio instead. 
Shut off from her usual collaborative way of working, Walker found herself trapped between a yearning for others and the outside and thoughts of her Tunisian heritage and American upbringing. The result is that Waking The Dreaming Body is an album that feels filled with tension channelled into what feels like a forty-minute fever dream. Each song oscillates between rich, ambient textures and melancholy poetry, ebbing and flowing between moments of stark lucidity and blissful ethereal haze.
Mostly, Waking The Dreaming Body is a record that somehow feels grown out of Arizona's deserts and mountains. From the lonely campfire folk of 'Softer' to the sound of howling wind that underpins 'Windows 1', each song evokes a landscape in some way, inviting you to lose yourself in the sheer open vastness. Trust me – that takes some pretty powerful magic.
Karima Walker is interviewed in the new issue of Loud And Quiet – order your copy here.
We're not being funny...
… but can you become a member please?
It's actually excellent value, and will help us continue to promote new independent artists and labels.
Sign up and you'll receive our physical magazines delivered to your door, our digital editions, exclusive podcasts and playlists and an actual bookmark, as if printing a magazine in 2021 wasn't old fashioned enough.
6-month and full year memberships are available now. Fancy it?