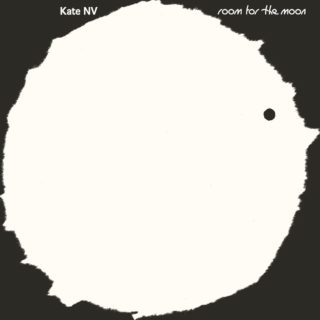 Kate NV
Room For The Moon
8/10
A NOTE: LOUD AND QUIET IS IN DANGER OF CLOSING. PLEASE CONSIDER SUBSCRIBING TO OUR MAGAZINE OR MAKING A SMALL DONATION HERE. THANK YOU.
Moscow-based electronic producer Kate NV is no historian, more just a really convincing storyteller. Indifferent to the factual nitty-gritty, her retrospective fiction makes up a vivid, albeit entirely fabricated truth. Mostly conjured from unlived memories, her music's absurd aesthetic is like watching restored footage; old black and white film colourised and repurposed for the present day to marvel. Showing off images of a surrealist past, her new album, Room For The Moon does not exist in reality, but is formed by NV's own nostalgic invention. 
Abandoning the buoyant minimalism of 2018's для FOR – a record that searched for human imperfections inside a Buchla synthesizer – Room For The Moon communicates through vintage Russian and Japanese media. Deviating between English, French and Russian, her voice threads the blurry outline of a childhood memory, each track like a scene from a movie where you can't remember the plot but are able retain the general mood and atmosphere. Mischievous and eccentric, it's hard not to point out the blatant Kate Bush resemblance (see video to 'Marafon 15'), but Room For The Moon feels beyond such predictable comparisons.
Contorting percussive grooves into meticulously crafted experimental pop arrangements, Room For The Moon is fluidly expressive. Angelic giggles ring out behind dancing basslines on 'Ça Commence Par', its rhythmic punch punctuated by marimba tones and wandering flute sections. Lazy saxophone accents wheeze over sprightly synths on 'Du Na' and oppose the elastic inflections of album opener, 'Not Not Not'. 
The borrowed melody from Tchaikovsky's 'Piano Concerto No. 1' is hardly recognisable on 'Tea' with its remnants masterfully welded into a transportive dreamscape. Like sprinkling fairy dusty onto the ordinary, 'Plans' breathes life into a symphony of damaged orchestral instruments through a sampling. Addressing viewers in a news-style broadcast, her sarcastic commentary can't help but poke fun at the complete disaster around us.
Subscribe now. Cancel anytime
Go on, give us a go
We love making Loud And Quiet – our magazines, this website, our podcasts and more – but it's become increasingly difficult for us to balance the books.
If you're a reader who'd like to help us keep the show on the road, please consider becoming a Loud And Quiet subscriber. There are options to receive our physical magazines and lots of other extras that are exclusive to our supporters.