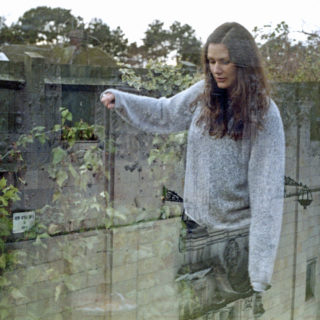 A NOTE: LOUD AND QUIET IS IN DANGER OF CLOSING. PLEASE CONSIDER SUBSCRIBING TO OUR MAGAZINE OR MAKING A SMALL DONATION HERE. THANK YOU.
A crisis of confidence led Katie Malco to stop performing after the release of 2013's Tearing Ventricles EP. Such acute self-doubt could perhaps have been anticipated in an artist who once joked her music had a "sad lonely girl having a breakdown kinda vibe."
The intervening years have seen the London-based musician re-assess her style. Where she previously created vulnerable, melancholy songs that were built around a stark piano, she's now got hold of a battered Telecaster and a handful of twitching chords.
Her debut album, Failures, opens with sedate piano, but it's not long before grungy guitar kicks in on 'Animal'. A track that was inspired by a period when she sofa-surfed as a teenager to avoid her mother's abusive partner, it explores her unhealthy relationship with alcohol. "Thirteen beers and a bad taste in my mouth," she sings over '90s-influenced, Ash-friendly arrangements.
This confessional approach to song-writing is differentiated from the masses by vivid imagery that tends towards the poetic. On 'Night Avenger', which adds what sounds like an accordion to dry electric guitar, "the street light scatters through the trees / and highlights your misery."  And on 'Peckham', a piano-led ballad that comes closest to her earlier work, she details, "empty bottles all over the floor / from when I felt low the night before."
At their strongest these vulnerabilities are couched in crunching guitars, which add heft to her emotions. 'Creatures', with its frantic strumming, could be mid-period Mitski while 'Brooklyn' has a slight surface distortion that brings intimacy to its emo tendencies. This home recording quality is present throughout most of the album which, when contrasted with her clean delivery, lends a stylistic tension.
The strong melodies throughout give some tracks the quietly anthemic quality that reverberates around much of the Radio 2 playlist. 'September', which has been re-arranged from her earlier EP, and 'Fractures', which blends a harmonic folk influence with rolling military percussion, could both be lighters-in-the-air moments for slightly heartbroken, slightly confused individuals. 
Malco has described Failures as a coming-of-age record but while it has its fair share of late-night existential questioning, it's also one that will appeal to fans of late '90s grunge-pop. It features one too many fillers, but if she can stave off another crisis of confidence the next album could see her move from imagined failures to small time success.