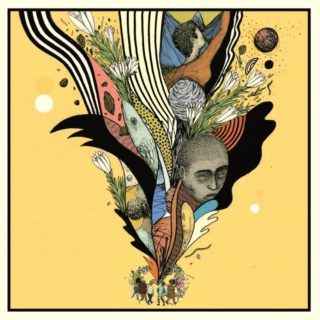 LOUD AND QUIET CAN ONLY SURVIVE WITH READER SUPPORT. PLEASE CONSIDER SUBSCRIBING FOR LESS THAN £1 PER WEEK.
The African continent has long been a subject of fascination for white Western musicians. From Paul Simon to Vampire Weekend and beyond, a slightly uncomfortable element of exoticism has always lingered around these undeniably very good records. 
Keleketla! feels different. It's a collaborative project between British electronic duo Coldcut and musicians from around the world: Tony Allen, Yugen Blakrok, Soundz of the South Collective, DJ Mabheko, Benny Wenda, Nono Nkoane, Shabaka Hutchings, and so many more. It started out at the Keleketla! library in Johannesburg, a multimedia library that has run on community donations to its archive since 2008. Matt Black and Jonathan More of Coldcut were selected by Rangoato Hlasane and Malose Malahlela, who run the library, to create a musical collaboration with South African artists. Proceeds from this album will go towards the charity In Place Of War, who facilitated the creation of this project.
Keleketla! feels cohesive in the extreme and exemplify the power of community. The track 'International Love Affair' is a fitting descriptor for the album; the spirit of cross-continental collaboration is palpable with how tight the album is as a whole and how equally every musician's talents are lit up.
It frequently draws on the political power of music and the global responsibility that we all have to use our voices to amplify and draw attention to issues all over the world. Lead single 'Future Toyi Toyi' features Soundz of the South vocalising a revolutionary chant over a skipping gqom track; 'Papua Merdeka' features the late, great Tony Allen on drums, and is led by a spoken call from Benny Wenda for the liberation of West Papua from Indonesian rule; 'Freedom Groove' is a track filled with the vitality and energy that necessitates change. 
The message of these tracks feels incredibly pertinent given the contrasting police response to the far-right protests against the lockdown and the protests sweeping the globe against police brutality following the murders of George Floyd, Breonna Taylor, Nina Pop, Ahmaud Arbery, and Tony McDade. The energy that pulsates throughout the album, through the dubby hopefulness of 'Broken Light' to the cosmic 'Shepherd's Song', is a good reminder of the constant energy that's needed to keep a check on those in power and speak out when it's being used unfairly.
Keleketla! breeds an impossibly enticing sense of hope that one day things might be better.
Please support Loud And Quiet if you can
If you're a fan of what we do, please consider subscribing to L&Q to help fund our support of new musicians and independent labels
You can make a big difference for a few pounds per month, and in return we'll send you our magazines, exclusive flexi discs, and other subscriber bonus bits and pieces
Try for a month and cancel anytime