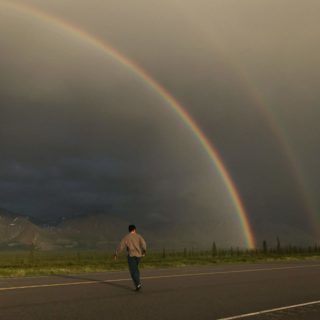 Kevin Krauter
Full Hand
(Bayonet)
7/10
It makes sense to learn that Kevin Krauter's formative music experiences came at home sitting in front of MTV and VH1, in a time when Smash Mouth, Third Eye Blind and Sugar Ray were all on A-list rotation. Those types of influences are instantly detectable in the Indiana songwriter's second album (he's also bass player in the band Hoops), much more so than his engaging debut album Toss Up in 2018. Prior to those hours engrossed by the box it was all Christian music – as dictated by his parents – but here, in these songs that explore self-acceptance, confidence and his developing sexuality, those threads of pre-Millennium radio rock are strong. So too is the post-Bright Eyes wash of folky-emo.
No bad thing. In Krauter's delicate hands these solid echoes of Goo Goo Dolls, Rival Schools and The Postal Service sound perfectly acceptable, and remind that modern masters – the likes of Kevin Parker (on 'Opportunity'), M83 ('Surprise') and Mac Demarco ('Green Eyes') – may have found more illumination from that period than previously credited. 'Piper', built on a plinky synth and drum machine is one of the exceptions; an Alex Cameron tune, but sincere, without the crude punchlines.
These songs are comforting, melodically astute, open-ended, dreamy, and if one had popped up on the soundtrack to Jonah Hill's mid90s movie you could've sworn you heard it before. Instead you'll be Shazaming them in Urban Outfitters. Now, time to dust off that Semisonic record.
New monthly memberships available
Here's a new thing: our membership scheme now has a pay-monthly option, plus a load of exciting new digital stuff for people who support what we do. It's actually excellent value, honest, and will help us continue to promote new independent artists and labels.
Sign up and you'll receive our physical magazines delivered to your door, our digital editions, exclusive podcasts and playlists and access to our EXTREMELY glamorous Members Lounge. You'll be the envy of all your friends.