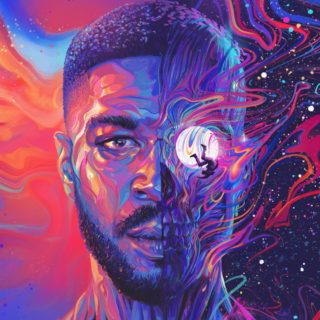 Kid Cudi
Man On The Moon III: The Chosen
(Republic)
6/10
Man on the Moon III is an album heavily wrapped up in the mythos of Kid Cudi. For some fans, just the idea that the trilogy has been completed comes with a heavy emotional pull. The first Man on the Moon album was conceived as an autobiographical concept album that had Cudi wrestling with his inner demons. Depression, substance abuse and spirituality were placed at the centre. Along with his other solo work, it influenced a whole wave of performers in hip-hop and beyond to look inward. The expensive psychedelic emo trap that dominates airwaves and got Travis Scott his Ronald McDonald collab owes a lot to Cudi's vision. 
Despite the occasionally surface level nature of the trend he inspired, depression has been a visceral reality for Scott Mescudi, and has led to bouts of musical inactivity.  Those who relate to his story as represented in his music will have a lot to celebrate that a new solo album exists. Fittingly, his voice is warm, emotive and energetic throughout the project.
MotM3 is split into four acts that see our hero battling with his evil alter ego, Mr Rager, drawn back into a hedonistic life of partying, slowly trying to claw his way out. The concept is admittedly flimsy, there to give greater a sense of weight to what are largely formulaic pop rap songs. The album's run from 'Tequila Shots' through to 'Dive' are decent and catchy modern trap songs, albeit ones self-aware enough to know the high of the party won't last forever. Without previous knowledge of Cudi's status, you might not hear them as particularly spectacular.
'Dive' is the best of this bunch, Cudi's signature warbled vocal adding movement and personality to the barebones formula he's working with. Cudi isn't the strongest technical rapper – his appeal has long been the atmosphere and emotion he brings to a song. On this first batch of songs, he's not playing to his strengths. This is emphasised on the New York drill-influenced 'Show Up', where Pop Smoke and Skepta both outperform Cudi with fluid, brash verses. Skepta especially is stunningly precise and charismatic. 
Cudi finds his feet again on the back half of the project, allowing himself to wander into trippy and introspective songwriting. 'The Void' and 'Lovin' Me' lean into his love of alt-rock and emo in tasteful, earnest ways, the latter featuring a gorgeously candid vocal from Phoebe Bridgers that adds a weightlessness to what has been a crushingly heavy journey through one man's thoughts. 
The album's best moments are intended as group catharsis between the listener and Cudi himself. What 'Love Me' achieves with its featured vocal, '4 the Kidz' underlines with passionate verses and heady waves of effects. When a child's voice whispers "to be continued" at the end of the album, it's hard not to smile at the thought.
New monthly memberships available
Here's a new thing: our membership scheme now has a pay-monthly option, plus a load of exciting new digital stuff for people who support what we do. It's actually excellent value, honest, and will help us continue to promote new independent artists and labels.
Sign up and you'll receive our physical magazines delivered to your door, our digital editions, exclusive podcasts and playlists and access to our EXTREMELY glamorous Members Lounge. You'll be the envy of all your friends.