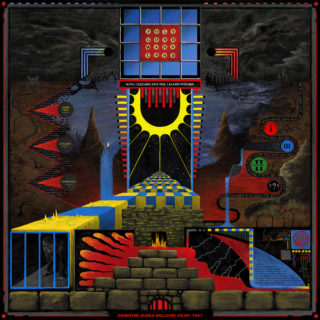 King Gizzard & The Lizard Wizard
Polygondwanaland
9/10
"We do not own this record. You do. Go forth, share, enjoy." So declare Australian psych freaks King Gizzard and the Lizard Wizard in the press release of 'Polygondwanaland', their fourth album of 2017. As if Radiohead's free digital album 'In Rainbows' hadn't gone far enough a decade ago, fans are granted free access to digital, vinyl, and CD masters of 'Polygondwanaland' for hypothetically printing their own physical copies – to sell for profit if they wish.
Is this a gimmick staged to prop up King Gizzard as harbingers of a "true music culture"? Perhaps, but their timing is undeniable. In recent years, claims have been made about a minor "boom" for the ailing vinyl industry, securing a future for physical formats yet. However, the bigger picture holds that charts and everyday music consumption are dominated – indeed actively altered – by streaming services. The world's wealthiest pop stars thrive on individual track streams alone, while independent artists are unable to catch a break in an overpopulated and heavily monopolized environment. Good Sir Knight Spotify "saves" the music industry, but nobody mentions that the damsel looks suspiciously like Ed Sheeran.
What the release of 'Polygondwanaland' appears to say is, if independent music culture is to survive, they can't do so on £9.99 a month streaming services. It's optimistic – naïve, even – but King Gizzard nonetheless outline a different way to engage with their music, and with music in general. Beyond consuming alone, fans are encouraged to take active part in the material life of 'Polygondwanaland'. Much to the chagrin of vinyl completionists everywhere, there may be countless configurations of the album, all with countless different track listings and sleeve artwork, made by countless cottage industries worldwide. It's totally ridiculous, and I love it.
Beyond its situationist aura, is 'Polygondwanaland', actually any good? Absolutely. 'Crumbling Castle' and 'The Fourth Colour' are immersive psychedelic trips, Stu Mackenzie's vocal ranging from whisper quiet to shrunken Bruce Dickinson. Leah Senior, deadpan storyteller on previous release 'Murder of the Universe', returns for much of the same on 'The Castle in the Air'. A Can-infused beat drives the martian desert rock of 'Deserted Dunes Welcome Weary Feet'. 'Polygondwanaland' is another stellar entry in King Gizzard near-flawless 2017 run; but to say that it's merely good is to miss the point entirely.
Download, create, share and sell your own copy of 'Polygondwanaland' for free here
Free Protomartyr flexi disc with this month's magazine
Subscribers to Loud And Quiet now receive a limited edition flexi disc of a rare track with their copy of the magazine
This month's disc is from Detroit punk band Protomartyr