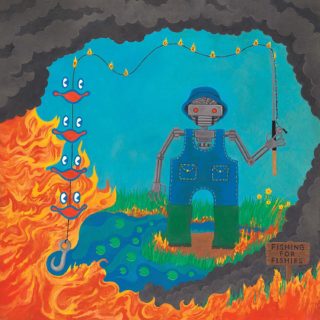 King Gizzard & The Lizard Wizard
Fishing For Fishies
8/10
King Gizzard & The Lizard Wizard do not leave ideas half-baked. The Australian rockers made this clear when they embraced everything from Tolkien mythology to improvised jazz during their remarkable (bonkers) run of five studio albums in 2017. When they returned this January with the futuristic 'Cyboogie' it sounded like they were preparing fans for a fully autotuned, Daft Punk-inspired concept album. However, Fishing For Fishies turns out to be a much more interesting record than that: its roaming songs imagine blues rock in the age of the robot.
The record shimmies into life as King Gizzard set off on their southern road trip. While Stu McKenzie and his band revel in vintage blues instrumentation, songs swing somewhere between a romanticised past and an unsettled future. The Texas blues edge of 'Boogieman Sam' malfunctions when its guitars short-circuit; likewise, warbled tones eventually break through the sunny surface of 'The Bird Song'. The disconnect works well on an album designed as a comment on pollution: seemingly natural environments are anything but. McKenzie also goes on to condemn waste on 'Plastic Boogie', although it doesn't sound like the partying crowd is listening too closely.
Ambrose Kenny-Smith's harmonica – a highlight throughout – is wielded menacingly on 'Real's Not Real', as the album's rustic façade is finally abandoned. A murky desert rock sound emerges on the gripping 'Acarine', a track that seems to grow increasingly panicked in a hedonistic underground. 'Cyboogie' completes the album's transformation, its dystopian yet irresistible groove reigning supreme.
New monthly memberships available
Here's a new thing: our membership scheme now has a pay-monthly option, plus a load of exciting new digital stuff for people who support what we do. It's actually excellent value, honest, and will help us continue to promote new independent artists and labels.
Sign up and you'll receive our physical magazines delivered to your door, our digital editions, exclusive podcasts and playlists and access to our EXTREMELY glamorous Members Lounge. You'll be the envy of all your friends.