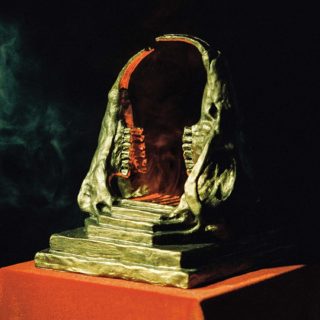 King Gizzard & The Lizard Wizard
Infest the Rats' Nest
5/10
Yet again taking a sledgehammer to rock authenticity only to rebuild it in their own many-headed, genre-agnostic image, Melbourne's busiest psych rock troupe King Gizzard & the Lizard Wizard further establish their claim to the throne as the 21st century's answer to Ween with an album of — what else — thrash metal. Genre flexibility is as conceptually fruitful in the realm of King Gizzard as recording and releasing five albums in a single year — which they achieved in 2017 — and, despite Fishing for Fishies' harmonica-laden boogie-woogie or the jazz rock of Sketches of Brunswick East, dipping a tentative toe in the dark and heavy has always been on the agenda. But Infest the Rats' Nest unabashedly cannonballs into the pool. If only it had the good sense to swim.
Then again, King Gizzard are more than capable of a doggy-paddle. 'There is No Planet B' is as wacky and riotous an opener as you'd hope from genre workout, and its title — surely lifted from the kind of novelty t-shirt you pick up at Camden Market — strikes the right note between silly and didactic with regards to environmental disaster. Ditto 'Mars for the Rich' ("Earth for the poor," we are told), which vaguely posits that socio-economic inequality will inevitably survive well into the age of space colonisation. At its best, Infest the Rats' Nest adorns red hot riffs with arrays of psychedelic sci-fi imagery, none more brilliantly weird than the "fields of beef" of the thunderous 'Organ Farmer'.
But right around 'Superbug' — a sub-Sabbath slog worse for its near-7 minute length — the album falls short of the non-stop rollercoaster of 2017's prog-indebted Murder of the Universe. Would-be multi-suite centrepieces 'Venusian' 1 and 2 barely stand out, and by the album's close with 'Hell', it's clear King Gizzard shot their wad some time ago. What's more, the group risk sliding from the merely limp into the aggressively apolitical. "Space is a place for the human race" bellows singer/guitarist Stuart MacKenzie on 'Perihelion', and while it's unclear the spirit in which this is to be taken, neither can be optimistic. As sardony, it's hackneyed; as genuine aspiration, it's woefully misguided.
But a staggering 15 albums in, any group might get complacent, and when King Gizzard get complacent, they resort to nothing more than banter. Setting aside sub-par, masturbatory ecological musings, the album is best embraced as total fanboy worship at the altar of Judas Priest, Slayer, early Metallica, and Kreator. Given the severe lineup truncation from seven to three, it's fitting that the tale of Infest the Rats' Nest is King Gizzard gaiden — a short chronicle in their expanded universe.