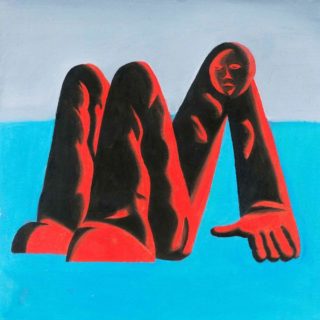 King Krule
Man Alive!
(XL)
8/10
Halfway through the creation of this third King Krule album, Archy Marshall became a father for the first time. If it is to bring a bright reinvigoration to his art, then we will have to wait until album number four to hear the results.
Man Alive! is a step further into the depths of Marshall's recesses, following on from 2017's acclaimed The Ooz. Like its predecessor, it is less a sweeping state of the nation commentary, but rather a compendium of snippets of overheard conversations as we the listener drift through a metropolitan haze. It is a clip gallery of lives, connected by time and spirit, a collage of urban unease, dissatisfaction and distrust.
Strung out, low-hanging basslines tussle with textures rather than melodies of guitar. Indiscernible, chopped up snatches of unfamiliar, seemingly unwelcome voices drift in and out of the mix. Denseness is king on Man Alive!, and whilst it may not amount to a cohesive narrative, Marshall does not appear to strive for closure from his music, but expression.
Optimistically, the denseness could be described as a benign haze (I'm looking at you, lead single 'Stoned Again'), but more often the lack of fresh air on Man Alive! appears to be suffocating its characters.
Subject matter pings from paranoia on 'Supermarché' ("another pair of eyes, LET GO!"), through low self-esteem on 'Underclass' ("I'm unsure at all of what I was supposed to be, the demons keep showing me up in times of need") to isolation on 'Perfecto Miserable' ("another lonely night, you're my everything"). Marshall ties these alienating, mental health-adjacent social issues to nocturnal, industrial soundscapes in much the same way that Burial has been mastering in another musical form for the last decade and a half.
You have to lean into Man Alive! to receive its message; it won't come to you, but what lies in wait if you do is the dark, harsh truth. King Krule is one of the few artists ready to stare it in the eye.
King Krule is on the cover of Loud And Quiet 140 – available in print and digital. 
Free Protomartyr flexi disc with this month's magazine
Subscribers to Loud And Quiet now receive a limited edition flexi disc of a rare track with their copy of the magazine
This month's disc is from Detroit punk band Protomartyr