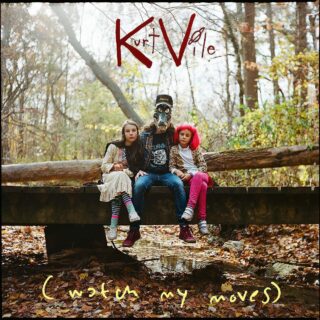 Kurt Vile
(watch my moves)
(Verve)
8/10
Listening to Sun Ra as his breakfast settled and his morning coffee began to cool was Kurt Vile's ritual whilst crafting (watch my moves). As the cosmic jazz artist's music tapped into the spiritual, Vile too emulates deeper feelings on his ninth album. Utilising psych-warped synths, breezy instrumentals and elements of classic rock, this meditative record feels like a guide to Vile slowing down. 
A personal reflection, the opener 'Going on a Plane Today' consists of simplistic piano chords. Diarylike, Vile describes his day as if speaking to his younger self. Despite only appearing once, the track's trumpets are striking, making the opening of the record more grand. Vile's mellow rock feels like something you would stumble across on MTV Classic back in the '00s, a hidden gem that sticks in the outskirts of your memory. 
The introspective atmosphere acts as a perfect soundtrack to a long night time drive; Vile paints vignettes of his Mount Airy, Philadelphia home and the travelling that's gotten him thus far. 'Mount Airy Hill (Way Gone)' and 'Chazzy Don't Mind' are filled with personal wisdoms that fit snugly over basslines that never meander too far and remain captivating. 
Vile's solace has seen him build his own home studio and remain static after a decade of movement, and it sets him in a completely comfortable musical groove. His laidback psych is purely him, as natural as it comes. He mentions how he was physically in one place but his mind was travelling; this psychically-powered journey is the tranquil thread which runs all the way through (watch my moves).
Free Protomartyr flexi disc with this month's magazine
Subscribers to Loud And Quiet now receive a limited edition flexi disc of a rare track with their copy of the magazine
This month's disc is from Detroit punk band Protomartyr