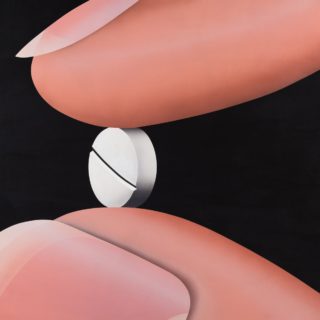 Black Dice's Bjorn Copeland once described L.A. Takedown as, "Baywatch Krautrock." And indeed it's tempting to leave the review at those two beautifully accurate descriptors but, not being blessed with such succinctness, I'll try to flesh his summary out a little further.
A seven-piece masterminded by Aaron M. Olson, L.A. Takedown make music that is both ethereal and teeming with grooves; sober at one turn, absurdly exuberant at the next. They throw the time signature shape-shifting of Tortoise at Giorgio Moroder's crunchy disco synthpop and blend XTC-esque new wave with Tangerine Dream's ambient kosmische.
I'm still not eclipsing Baywatch Krautrock. Ok, standout 'Bad Night At Black's Beach' could be the theme tune to a Sega Mega Drive beat 'em up, while 'City of Glass' – another standout – is BadBadNotGood with the melodrama jacked up and a couple of dollops of Emerson, Lake & Palmer guitar solos dished out for good measure. This is the sound of musicians enjoying themselves while they push themselves sonically and musically. It's a joyous experience. It's Baywatch Krautrock, like.
We're not being funny...
… but can you become a member please?
It's actually excellent value, and will help us continue to promote new independent artists and labels.
Sign up and you'll receive our physical magazines delivered to your door, our digital editions, exclusive podcasts and playlists and an actual bookmark, as if printing a magazine in 2021 wasn't old fashioned enough.
6-month and full year memberships are available now. Fancy it?