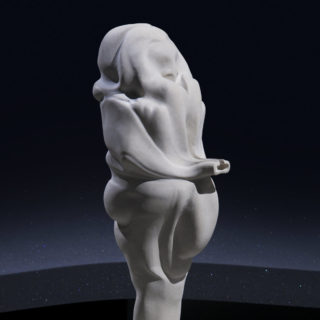 Lafawndah
The Fifth Season
(latency)
7/10
After her ambitious, eclectic breakthrough on Ancestor Boy last year, it was thrilling to imagine where Lafawndah might go next. It was a record overflowing with ideas from a globally-minded musician who could pivot seamlessly from pop to ambient, singing to choreography, poetry to percussion. Part of her appeal is her clear skill in multiple disciplines, and an abundance of styles to pull from. On The Fifth Season, rather than look to her nomadic background for influence, Lafawndah goes off-world completely.
The Fifth Season takes its inspiration from N.K. Jemisin's award-winning Broken Earth fantasy trilogy. In its conjuring of those books' desolate atmosphere and the sharp allegory of their universe, it's a record with surprising focus and restraint. The change of pace works well, allowing Lafawndah a chance to dive deep into her theatricality and vocal flare with a more patient backdrop.
Her voice is captivating throughout; fierce, calming and elevated across these six languorous tracks. 'Old Prayer' sets the tone well with its operatic sense of scale and surreal sway. Backed only by light percussion, trombone, tuba, effects and ambience, there's an elemental pull to the instrumental her band create through their hushed tones and stark presentation. It captures the mythos and scale of the universe it is influenced by.
Her work with pioneering Japanese composer Midori Takada is an obvious influence, especially on 'The Stillness', an eight-minute percussive piece built from subtle polyrhythms. The sounds aren't quite as vivid as needed to keep you in a trance for its entire runtime, but the track is an admirable attempt to capture the sparse wonder of Takada's 1983 album Through the Looking Glass. Lafawndah's palettes don't quite live up to those heights – the end of 'Don't Despair', for example, begs for a dynamic shift that never arrives.
Good authors and musicians can build fully-realised worlds for their audience to inhabit; some can do so with pared-down language and just a few contextual clues. Lafawndah's voice alone has the range and nuance to let you understand the exact emotion a character is feeling on a song like 'You, at the End'. The song's words are repurposed from one of Kae Tempest's best poems, one I've read many times. The performance here is just as knotted and intense as those words when I read them. Her ability to capture a mood or transform a sound into a tangible space is impressive across The Fifth Season, where she adds actor, director, and world-builder to her already long list of accomplishments.
Free Protomartyr flexi disc with this month's magazine
Subscribers to Loud And Quiet now receive a limited edition flexi disc of a rare track with their copy of the magazine
This month's disc is from Detroit punk band Protomartyr