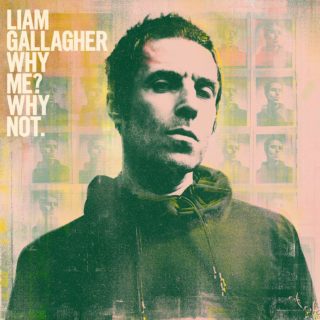 Liam Gallagher
Why Me? Why Not
6/10
Ten years on from bringing about Oasis' demise with a double-pronged guitar-and-plum attack on his older brother in a Paris green room, Liam Gallagher finds himself on the crest of a wave of solo success that, to his credit, has been achieved more than anything through sheer force of personality. Knowing full well that fans of his old band are not, in the main, renowned for the breadth of their musical tastes, he's successfully positioned himself as the no-nonsense rock and roll man of the people to Noel's po-faced, highbrow psychedelic experimentalist, which is apparently what a significant swathe of Oasis followers have come to regard him as now that he's started making music that sounds vaguely like Primal Scream.
All of which is to say that Liam cuts the more endearing figure of the two these days; his irreverent Twitter presence contrasts favourably with Noel's increasingly tiresome old-man-yells-at-cloud routine, whilst his onstage embrace of the Oasis catalogue and open admission that his new material is written collaboratively means that he is unquestionably the bigger live draw of the two. He is an unabashed crowd-pleaser.
Inevitably, that throws up questions as to the value of his recorded output. Commercially, there's plenty of it; 2017's debut, As You Were, went platinum, boosted considerably by the fact that there is a significant crossover between Gallagher's audience and the section of the public that still buys physical records as a matter of course. It's hard not to get the sense, though, that when you're capable of fetching 50,000 tickets at Old Trafford cricket ground and a similar number at Finsbury Park, the album becomes a vehicle to tour behind – a couple of big-hitting new singles, a handful of the same from As You Were, a slew of Oasis classics make for a winning formula in that kind of environment.
In truth, though, it seems aimless to nit-pick with Why Me? Why Not., the title of which handily provides Gallagher with a new Twitter catchphrase. It is a thoroughly robust collection and there's no shame in turning out meat-and-potatoes fare if doing so means playing to your biggest strength. Gallagher's snarl and swagger have often been approximated but never quite bettered and the songwriting nexus surrounding him, primarily composed of Greg Kurstin and Andrew Wyatt, clearly understands that Gallagher sounds at its best when he pitches up somewhere halfway between Oasis' arena-readiness and the slightly more measured territory inhabited by his sixties heroes.
We get the former on 'One of Us', 'The River' and the standout, the title track, on which the guitars directly reference 'Slide Away'. The latter, meanwhile is discernible on a clutch of tracks that bring the acoustic guitar to the fore – 'Now That I've Found You' and 'Alright Now', both forgettable, and 'Meadow', a pleasingly woozy stab at the sound that defined 1967 on Sgt. Pepper's Lonely Hearts Club Band and Their Satanic Majesties Request.
Speaking of the Stones, it wouldn't be an album from either Gallagher without a bare-faced rip-off and whoever owns the rights to 'Let's Spend the Night Together' these days – whether it be Jagger, Richards, Allen Klein's ABKCO or some combination of the three – will be paying very close attention to 'Halo'. Still, like the rest of Why Me? Why Not., that'll surprise nobody – everybody expected more of the same just as last time out, this is Liam Gallagher at his most polished, happy to keep on playing the rock star part he's best loved for, even if that means the music's just fine. It's also as close as Oasis fans are likely to get to a continuation of the band, particularly for as long as Gallagher continues to demonstrate an impressive propensity for lacing his declarations of readiness for a reunion with threats of violence against the one man he actually needs to convince. All things considered, then – as you were.
Free Protomartyr flexi disc with this month's magazine
Subscribers to Loud And Quiet now receive a limited edition flexi disc of a rare track with their copy of the magazine
This month's disc is from Detroit punk band Protomartyr