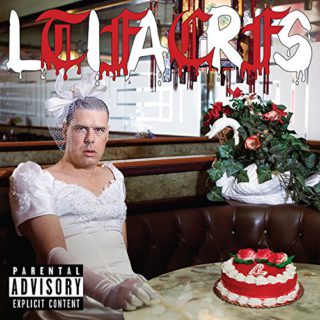 "There's acoustic guitar all over this record! How ridiculous is that?" exclaims Angus Andrew of the latest collection of Liars songs. And, considering he locked his six-strings away circa 2010, 'TFCF' (I don't know either) does represent a certain return to more traditional sounds. But if any of you Turin Brakes fans out there are starting to salivate, look away now.
Despite the fact that Liars is now essentially a solo project, 'TFCF' feels like a greatest hits of all the sounds the band had been honing since the back-end of the '90s. Closest in character to the restless post-rock of 2006's 'Drum's Not Dead', its spurts of pummelling percussion are underpinned by fragile, melancholy chords, giving 'TFCF' an eerie tension that is never quite resolved.
And yet, while that tension is the thread that pulls the collection together, it covers a serious range of genre ground. Disco-house ('Staring At Zero') gives way to dance-punk ('Cred Woes'), which gives way to folk-cum-synthpop ('No Help Pamphlet'). But it is 'Ripe Ripe Rot', a tender love letter to letting go underpinned by brittle synths – and perhaps the album's simplest song – which shines brightest.
So this is yet another excellent Liars album in an unbroken line of excellent Liars albums stretching back almost 16 years. Treasure this band, because, like Gang of Four, Wire, Arthur Russell, Big Star and countless other musicians who went unappreciated at the heights of their creative peaks, one day Liars will be gone.
New monthly memberships available
Here's a new thing: our membership scheme now has a pay-monthly option, plus a load of exciting new digital stuff for people who support what we do. It's actually excellent value, honest, and will help us continue to promote new independent artists and labels.
Sign up and you'll receive our physical magazines delivered to your door, our digital editions, exclusive podcasts and playlists and access to our EXTREMELY glamorous Members Lounge. You'll be the envy of all your friends.