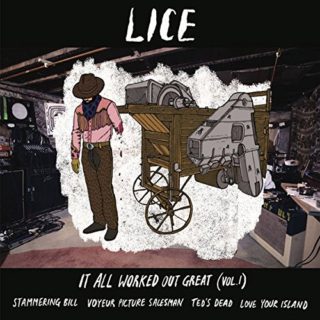 LICE
It All Worked Out Great Vol. 1 & 2
9/10
In the UK today, there's a deluge of very good garage, punk and rock groups that aim to capture the uncertainty of post-Brexit Britain. In fact, there are so many of these bands it's becoming difficult to not grow weary of apathy and anger. On 'It All Worked Out Great vol. 1 and 2', Bristol band LICE lay down eight songs that prove that they're the most exciting, inspiring and genuinely deranged new guitar band in the country.
Guitar bombast that owes a debt to Sabbath and Bauhaus fights with an unruly rhythm section, cooking up a sound that is raucous, rural and rabid. Musically, the band sound in constant conflict, and that's before you even hear the manic drawl of frontman Alastair Shuttleworth, perhaps the most exciting component of this group. No doubt Shuttleworth will be compared to Mark E. Smith for his spoken-word delivery (that's more barbed like Sultans of Ping FC), but this man is a creature far more wild-eyed, more volatile, more wacky. This is no drunken slurring. At times his voice cracks under the intensity of his growls; at others he maniacally cackles like a hyena, as he casts an allegorical spotlight on the most vile and tilted case studies to be sonically documented in recent memory.
Opening gambit 'Stammering Bill' sees Shuttleworth's rabid delivery address characters from farmers with OCD to perverts with speech impediments, whilst 'Little John Waynes' is a satirical take on pro-life activism that opens with the line 'A cowboy can't be tied down, when he's cowboying around.'
National guilt anthem 'Love Your Island' then attacks complacency above lethargic guitar cries, whilst country teasin' penultimate track 'In A Previous Life' sees the word 'parasite' spat in the most amazing way. On this double EP (it's over in under 20 minutes), LICE lay down the blue-print for a kind of guitar music that taps into the vulgar nature of our times perfectly. 
New monthly memberships available
Here's a new thing: our membership scheme now has a pay-monthly option, plus a load of exciting new digital stuff for people who support what we do. It's actually excellent value, honest, and will help us continue to promote new independent artists and labels.
Sign up and you'll receive our physical magazines delivered to your door, our digital editions, exclusive podcasts and playlists and access to our EXTREMELY glamorous Members Lounge. You'll be the envy of all your friends.