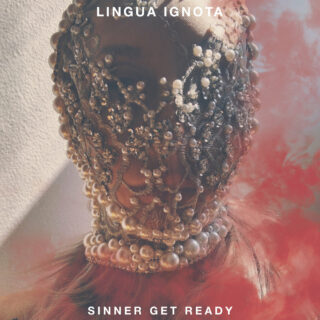 Lingua Ignota
SINNER GET READY
9/10
The infiltration of the finer mechanisms of religion and spirituality into a musician's artistic output is not uncommon, with Nick Cave, Leonard Cohen, George Harrison and even Kanye West just some of the names well-versed in creating spiritual concept pieces that take a deep dive into the divine. With SINNER GET READY, Lingua Ignota plots a similar trail and makes use of her third full-lengther  to survey the ascetic brand of Christianity that pervades the rural, Bible-belt-adjacent landscape of Pennsylvania where the artist also known as Kristin Hayter currently resides.
It's a record born out of a period of turbulence for Hayter, as she stared down the barrel of a burgeoning pandemic, further compounded by the reverberations of a serious spinal injury sustained at a live performance, and its resulting surgery and recuperation. The unsettled foundations echo Hayter's own Catholic upbringing and subsequent adoption of atheism, and across these nine tracks she creates a metaphorical ecosystem that ruminates on the impact of piety, rebirth, forgiveness, and catharsis.
Created with long-time collaborator Seth Manchester (Metz, The Body, Daughters), here Hayter transfigures her tried-and-tested sonic palette of previous Lingua Ignota works by swapping industrial onslaughts and abrasive aggression with traditional instrumentation originating from the ultra-fundamentalist environment. Sustained organ drones layered atop congregational vocals are haunted by recurrent leitmotifs expressed by subtle piano work, apposite banjo, and unsettling compositional techniques.
These carefully crafted aural selections allow the formation of allegorical worlds to explore the album's thematic content. Specifically, tracks like 'MAN IS LIKE A SPRING FLOWER' explore love and abandonment through the scope of Mennonite treatises, whilst engaging her most tender and explorative, at times acousmatic, sounds of the record. Similarly, 'PERPETUAL FLAME OF CENTRALIA' studies resurrection and clemency, making use of words spoken by a disgraced evangelist, as it tenderly unfolds with delicate piano and gentle vocals.
SINNER GET READY is an uncompromising and often unsettling assessment of religion, but not outright damnation. Instead, an allegorical mirror is assembled using impressive songcraft and informed themes to display the conflict, duality, and divergence often present in the sacrosanct. Despite its theological bearings, this is no self-indulgent enlightenment project. It's no less urgent, or immediate than previous works, and alongside flexing her multi-hyphenate musical capabilities and assertion as a visual and artistic auteur, Lingua Ignota once again exceeds expectations. 
Free Protomartyr flexi disc with this month's magazine
Subscribers to Loud And Quiet now receive a limited edition flexi disc of a rare track with their copy of the magazine
This month's disc is from Detroit punk band Protomartyr