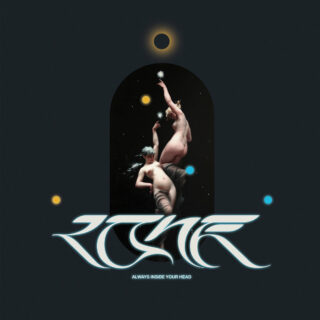 Lone
Always Inside Your Head
8/10
Two angelic figures ascend in a biblical fashion against a starry, sci-fi backdrop on the sleeve of Always Inside Your Head, Matt Cutler's eighth outing under the Lone alias. This imagery is reflected upon immersion into the music itself, where celestial vocals harmoniously dance with ethereal, otherworldly electronics. As the producer returns after five years of near-total studio silence, this transcendent sound feels apt for his next era as an artist.
Citing guitar pedal wizards like Cocteau Twins and My Bloody Valentine as his prime inspiration when writing this record, it's unsurprising to hear such dreamy, layered soundscapes being traversed atop his typically well-crafted and infectious rhythms. Opening track 'Hidden by Horizons' and 'Inlove2' exemplify this best, reintroducing us to Cutler alongside his new collaborator vocalist Morgane Diet, whose voice feels like it was always destined to meld with the sonic universe of Lone.
Familiar tech-step and drum 'n' bass beats are invited back into the mix on 'Realise' and 'Mouth of God', yet don't sacrifice the overarching characteristic of the record, sounding akin to the work of Lapalux and Koreless. A trip-hop DNA seems woven into various songs, such as 'Undaunted', which ushers in the end of the album, before 'Coming Into Being and Passing Away' acts as a beautiful, ambient epilogue.
Following epic themes of "birth, death, and our existence in-between", Always Inside Your Head is easily Cutler's most personal and ambitious effort yet. While his catalogue thus far has its place in the hearts of many, Always feels like the most exciting new threshold that Lone has crossed for some time.
Subscribe now. Cancel anytime
Go on, give us a go
We love making Loud And Quiet – our magazines, this website, our podcasts and more – but it's become increasingly difficult for us to balance the books.
If you're a reader who'd like to help us keep the show on the road, please consider becoming a Loud And Quiet subscriber. There are options to receive our physical magazines and lots of other extras that are exclusive to our supporters.