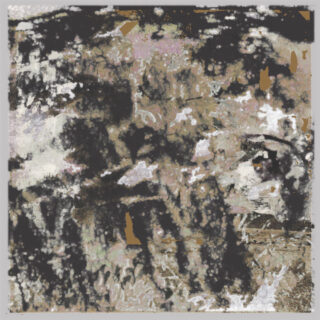 Loraine James
Building Something Beautiful For Me
8/10
The music of Julius Eastman is not a static thing. Though his pieces are now rightly preserved as important historical works, they were also made to evolve. He was active at the same time as other minimalist composers in 1970s New York, but his swirling and unsettled approach to repetition make pieces like 'Femenine' and 'Gay Guerrilla' feel far outside of that time. He referred to his practice as 'organic music' – an additive approach to composition, where all the information contained within a piece can be heard within the earliest sections. It grows from there, and still grows on today.
That's a cold approximation of how his music can make you feel, though. Eastman's compositions require deep effort and awareness from performers. Players are expected to listen and react to each other. The hour-long score for 'Femenine' only offers five pages of musical guidance. It centres on one melodic idea, formed of two notes, which players must improvise on as the piece rises and falls, constantly searching. 
The compositional elegance of his work is matched with a wild emotional core that is just as multifaceted and impossible to pigeonhole. This is especially exemplified by his series of works made in the late seventies, whose titles remain controversial – 'Crazy N*gger', 'Evil N*gger', 'N*gger F*ggot', and 'Gay Guerrilla'. These pieces drew focus to Eastman's position as a gay, Black man living in an unwelcoming and often hostile time. The music contained within offers no simple platitudes or obvious symbols, but rather acts as a constant unravelling.
The act of reforming Eastman's legacy took many years. He had become homeless by the time he died, and many of his manuscripts were lost. Fellow composer Mary Jane Leach spent years searching for recordings of his work. She approached those closest to him to piece together his hidden archives. She followed a trail of lost performances, hoping that some works may have been saved. It would not be until 2005 (15 years after his death) that this material would become widely available. That material formed the three-hour compilation Unjust Malaise, which is now regarded as an essential within modern classical.
It's been an arduous and necessary journey to cement Julius Eastman's legacy. Crucially, his mischievousness and refusal to settle has not been forgotten. Instead, it's been expanded upon by a generation of performers, inspired by the beauty and purpose of his work. 
The music of Loraine James is similarly unstatic. That much is clear from her three dazzling solo albums, her surprising collaborations and her pivots to new sounds. Building Something Beautiful For Me is her latest pivot – a collection of electronic tracks reacting to and reinterpreting the work of Julius Eastman. It's the meeting point of two creators celebrated for their artful imperfection.
Released on Phantom Limb, the project gave James the opportunity to connect with Eastman's brother and fellow musician Gerry. She was afforded access to originals, midi stems, and a wealth of material on his musical ideas. Rather than faithfully rebuilding his songs in the form of covers, James reflects on the deeper concepts at play. 
On opener 'Maybe If I (Stay On It)', the playful melodic motif of the original is made heavier, repurposed into a fluid vocal cut. Somehow, it retains the ethos of the original. Stay on it. Explore it. Do it in the moment. There's perhaps no beatmaker more suited to take on Eastman. James's approach to beatmaking has long been loose and instinctual. Her live kick and hi-hat patterns are the exciting improvised element that makes the song become a living thing. 
Following on is 'Perception of Me (Crazy N*gger)', which brings the comforting and dreamlike synthscapes of her Whatever the Weather project into a more muted and reflective mode. What inspired it is an hour-long piece of shifting tension, so it's initially surprising to hear these ruminating sounds used for something comparatively relaxed. But like Eastman, James offers no easy answers, finishing her eight-minute reinterpretation with scrabbled drum loops and stretched piano chords.
'Choose to be Gay (Femenine)' shows its inspiration most clearly in its questioning title and deep atmosphere, but the bright, refracting bells and that enter half-way through create chills in the same way as Eastman's original. The production is both still and unfixed, like drifting in space. The mood moves from mournful to tranquil with each new chord that presses down.
Loraine's own experiences as a Black, gay musician play a subtle but important role in the sonic poetry of this song, as well as many others, but the album refuses to be just one thing. In true spirit, 'Enfield, Always' jolts you out of pontificating too hard. Math-rock drum samples disrupt the initially peaceful bed of sleepy synths. The drum fragments become increasingly scattered as the synths rise up to become frenetic and overwhelming. It's a busy crescendo made of just a few burning parts. 
On Unjust Malaise, the record's curators graciously leave in Julius Eastman's introduction to his works at Northwestern University in 1980. Here, he candidly explains parts of his process, his use of racial and homophobic slurs, and his own feelings towards these titles. Hearing the artist's voice is a blessing, and not just because it tells us more about possible readings of the work itself. It also brings us into his world for a moment. Loraine James does something similar on 'My Take', with a soft-spoken explanation of her musical motivations that's as off-the-cuff as anything else here. That it's worked into such a gorgeous and uplifting track makes the moment even more powerful.
'Black Excellence (Stay On It)', is perhaps the record's only misstep, in part because it lacks the distinction that James usually offers in abundance. It's a solo synth piece, and an enjoyable one at that. The cut-off, decay and delay are all tumbled around in a way that's always going to be engaging and satisfying for fans of this moving modular style. Still, what Craven Faults or Caterina Barbieri offer in melodic intrigue is missing. The occasional miss is sometimes the reality of doing a lot at once, as James is doing. That bold, human touch is all over this record, and it makes for a captivating listen more often than not. 
The decayed epilogue 'What Now- (Prelude To The Holy Presence of Joan D_Arc)', is a study in elegance. A pitched piano sample is sculpted into a healing drone. Brief flashes of live piano come into focus, though it's hard to know if James, Eastman or an anonymous performer are playing. A voice enters, and is gone before we recognise what it was saying.
"What I am trying to achieve is to be what I am to the fullest," Julius Eastman said in a 1976 interview with Buffalo Evening News. Buffalo was the place where he spent the most stable years of his life. "Black to the fullest, a musician to the fullest, a homosexual to the fullest," he continues. 
That quote has in some ways come to define his legacy. It's perspective is undoubtedly a factor in his growing relevance, for a generation captivated by the story of this nearly forgotten musical history. But his legacy, like his music, will be ever-changing and never static. Musicians like Loraine James are ensuring it. 
A funny thing can happen when the music from a great artist is played by another great artist. It can make you view both parties in a new way. Since her breakthrough record For You and I in 2019, Loraine James has reshaped how we view her, whether it's through fluid personal statements like Reflection, new aliases, or silly EPs full of bangers titled after misspelt names. This new project manages to reshape two artists at once. Building Something Beautiful for Me adds to a legacy by connecting it to another. Rather than tidy Eastman's music into a neat little box, she leaves it unravelled for the next person.