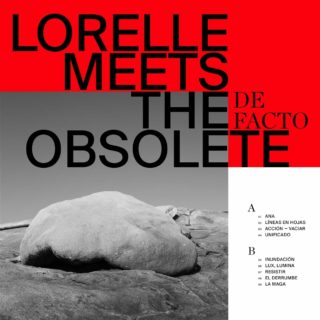 Lorelle Meets The Obsolete
De Facto
8/10
Everyone loves a bit of psychedelic Mexican drone-rock and here's forty-five minutes of it, courtesy of Lorena Quintanilla and Alberto Gonzalez. Remarkably, it's the duo's fifth album in seven years.
Opener 'Ana' is swirly, disorientating noise over a relentless, two-note backdrop. Despite its funereal pace (think Moon Duo on Tramadol) it's exciting nonetheless; a thrill shoots through you as each layer of sound launches over the last, before it's all stripped back down to bare bones again. 'Lineas En Hojas', meanwhile, takes the bassline from 'Billie Jean' and swathes it in synth melodies, before hacking it to pieces with guitar. Quintanilla sings in Spanish, but this is one of those records where the lyrics feel merely incidental and the vocals are just another instrument in the maelstrom – with the exception of 'Inundacion', where her voice floats pure and clear over a spacey, starry backdrop.
Of course, there are many fine exponents of this kind of music, and it's a genre where it's sometimes difficult to spot the differences. But Lorelle Meets The Obsolete are particularly good at what they do – this is powerful and viscerally exciting stuff. There's a hypnosis around their music, a buzzy resonance that makes you long for the physical immersion of a live show. They are masters of cerebral transportation, and 'De Facto' is a forty-five minute ticket to another place altogether.
New monthly memberships available
Here's a new thing: our membership scheme now has a pay-monthly option, plus a load of exciting new digital stuff for people who support what we do. It's actually excellent value, honest, and will help us continue to promote new independent artists and labels.
Sign up and you'll receive our physical magazines delivered to your door, our digital editions, exclusive podcasts and playlists and access to our EXTREMELY glamorous Members Lounge. You'll be the envy of all your friends.