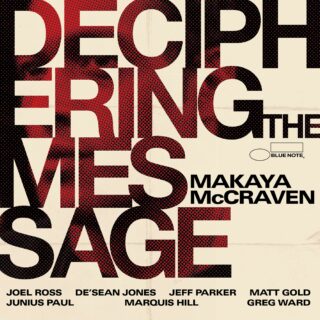 Makaya McCraven
Deciphering The Message
8/10
Fresh from reworking Gil Scott-Heron's final album last year, I'm New Here becoming We're New Again, Chicago drummer and producer Makaya McCraven makes his debut for Blue Note Records with another reimagining, this time taking on the legendary jazz label's iconic back catalogue. 
Picking out 13 tracks from the Blue Note vaults, McCraven and a host of collaborators breathe new life into 80-plus years of jazz history, honouring the original numbers while making them distinctly his own. Opening cut 'A Slice of the Top', originally by Hank Mobley, swings and rumbles with a distinctly post-Dilla lilt, all wonky brass and stumbling bass, while tracks like the classic 'Autumn in New York' and 'C.F.D' glide blissfully along bolstered by newly crisp production. 
As with McCraven's original work, the real magic on Deciphering The Message is his ability to fuse sampling and live musicianship. Where previous reworkings of the Blue Note catalogue – most notably by McCraven's fellow beat conductor Madlib's Shades of Blue – have used it as source material for new production, McCraven opts to keep things more intact. Featuring both newly recorded elements and original tracks, all stitched together into new arrangements by McCraven, the album is a balancing act between production tricks and jazz chops. 
Closing track 'Black Rhythm Happening' is the prime example, spilling out of the listener's headphones with both the warmth of a live jazz band and the energy of a DJ playing to a particularly lively block party. All told, Deciphering The Message is a subtle update to the jazz tradition of artists recording new visions of their peer's songs, and a fitting introduction for Makaya McCraven into the canon of Blue Note greats.
Free Protomartyr flexi disc with this month's magazine
Subscribers to Loud And Quiet now receive a limited edition flexi disc of a rare track with their copy of the magazine
This month's disc is from Detroit punk band Protomartyr