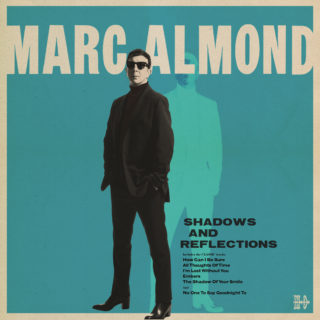 Marc Almond
Shadows and Reflections
(BMG)
6/10
Given that some of Marc Almond's finest moments have been reimaginings of dusty pop ('Tainted Love'; 'Something's Gotten Hold Of My Heart'), an album (un)covering sixties orchestral torch song nuggets is a promising prospect. However, 'Shadows And Reflections' cares less about reinventing its source material and more about simple recreation, leaving an album of admittedly bulletproof vintage pop but disappointingly little by way of the artsy subversion Almond does best.
What's more, the decision to play these songs with an entirely straight bat puts the pressure on Almond's vocals in the manner of an X Factor audition, one which he only occasionally passes: 'Blue On Blue', 'I Know You Love Me Not' and 'The Shadow Of Your Smile' have an enticing theatricality, but elsewhere Almond's intonation is discomforting and his delivery rather flat. It gives 'Shadows And Reflections' the feeling of a missed opportunity. These odd, lonely and often creepy songs should be dynamite for one of pop's great shapeshifters, but 'Shadows And Reflections', while perfectly listenable, is little more than misty-eyed nostalgia.
Loud And Quiet could do with your help
We love making Loud And Quiet – our magazines, this website, our podcasts and more – but it's become increasingly difficult for us to balance the books.
If you're a reader who'd like to help us keep the show on the road, please consider becoming a Loud And Quiet member. There are options to receive our physical magazines and lots of other extras that are exclusive to our supporters.