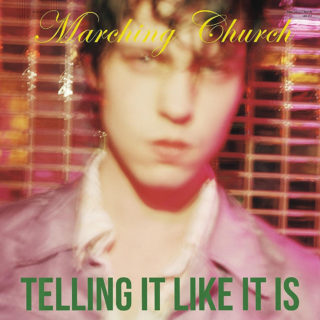 Marching Church
Telling It Like It Is
4/10
When Iceage arrived on the scene back in 2011 they delivered everything anybody could want from a post-punk band: almost catchy tunes hammered out with fucked off guitars and whiplash drums at the speed of light. The Danes also had a secret weapon in photogenic front man Elias Bender Rønnenfelt, perfect up front with his earnest caterwauling and complete onstage distain.
You can get too much of a good thing though, and while Rønnenfelt's presence within a band like Iceage makes sense, here in Marching Church – his solo side project – he comes off like a cruise ship Richard Hell, irritatingly gurning his way through nine tracks that you won't remember once they've finished. Beneath the warbling there are actually some half-decent ideas, albeit less than fully formed.
The spacey guitar on 'Up for Days' sounds like 'War'-era U2 (no bad thing, for sure, seriously) and '2016' is a bag of tricks but it never quite settles on a refrain. Too often though, 'Telling It Like It Is' simply grates on the ear – but at least it's forgettable. Every cloud…
New monthly memberships available
Here's a new thing: our membership scheme now has a pay-monthly option, plus a load of exciting new digital stuff for people who support what we do. It's actually excellent value, honest, and will help us continue to promote new independent artists and labels.
Sign up and you'll receive our physical magazines delivered to your door, our digital editions, exclusive podcasts and playlists and access to our EXTREMELY glamorous Members Lounge. You'll be the envy of all your friends.