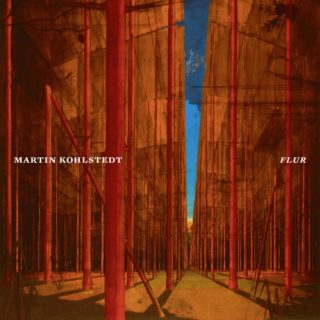 In forestry, a flur is a corridor that is cleared through an area of woodland, designed to maintain the strength and health of the area's ecology. For German neo-classical composer Martin Kohlstedt, though, the concept of a flur became a guiding principle when his creative life was thrown into Covid chaos.
Lockdown is as tedious to read about as it is to live through, but Kohlstedt's case is particularly stark, as it meant an enforced end to performing alongside the GewandhausChor, a fifty person choir based in Leipzig. His improvised piano and electronics performances have seen him establish enviable fanbases both live and online, even if the world of contemporary European classical music continues to be under-celebrated by the bulk of the English-speaking music community. Undeterred by enforced confinement to his Weimar apartment early in 2020, his creative energies quickly coalesced around the one remaining option left open to him and he set about assembling his first solo piano album since 2014's Nacht.
The emerging set of compositions provided a manually crafted path through the lockdown stalemate. By returning to his roots and focusing on the basic tenets of writing and recording, any creative blocks were unclogged; if anything, his fluctuating states of mind – the kind many of us have experienced this year – became ammunition. The work itself, in other words, had become the thing preserving Kohlstedt's mental stability, his very own flur.
Opener 'LUN' sees plaintive piano notes float in over a warm bed of ambient noise, the brush of finger on synthetic ivory almost perceptible. The track is a feeler outer, a soft cleansing of the day-to-day mental detritus that eases the listener out of their day and into the sanctity of the album ahead. By contrast, 'ZIN' is a burst of natural light, its fluttering keys and skipping heartbeat invoking the springtime, further accented by the sprinkling of birdsong. By the track's end, however, raindrops are pattering against the window, a theme later returned to on 'AJA', where the brewing storm finally breaks into claps of thunder.
It is a literal manifestation of the core characteristic of the album, its mood swinging from light to dark at will as Kohlstedt moves through the phases of his own inner conflicts, alternating between rest and work, anxiety and calm, the rational and the imagined. 'QUO' is a troubled track propelled by the low end pulse of an aggrieved mind, whereas 'RUL' is perky, reverberating with a head-nodding rhythm. 'PAN', meanwhile, is vulnerable, its notes resonating like isolated cries of anguish, only gradually building a tentative strength as it progresses. 
'NOX' is the six-minute centrepiece, ebbing and flowing with authority, at times playing like the score for a car chase, at others more like the soundtrack to a lead character teetering on the edge of breakdown. It is the most inherently dramatic piece on an album that is a remarkable showcase for the sheer range of tones and qualities that a master can extract from a single instrument.
Please support Loud And Quiet if you can
If you're a fan of what we do, please consider subscribing to L&Q to help fund our support of new musicians and independent labels
You can make a big difference for a few pounds per month, and in return we'll send you our magazines, exclusive flexi discs, and other subscriber bonus bits and pieces
Try for a month and cancel anytime