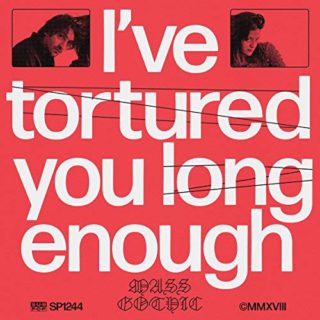 Mass Gothic
I've Tortured You Long Enough
(Sub Pop)
7/10
Husband-wife duo Noel Heroux (formerly of Hooray for Earth) and Jessica Zambri (of Zambri) have put themselves through self-imposed artistic purgatory to make their first collaborative album. Heroux had released one record under the Mass Gothic moniker in 2016, but that in essence was a solo project. For this, the couple ripped themselves up from their Queens roots and relocated to LA, living on floors and in cars, bereft of home comforts.
Quite where we'd be if they hadn't taken such action we'll never know, but the results are rich.  'I've Tortured You Long Enough' is conditioned by urgency, a sense that panic lurks just under the surface. The album is a battlefield between the duo's smiley songwriting tendencies and their destructive experimental reflexes. 'Call Me' is typical of this: a tuneful, sherbetty chorus duels with atonal squalling guitar, good and evil wrestling for control. Here, and in most cases, the former eventually triumphs, the sparkling melodies and Zambri's sunkissed vocals shining at their full brightness.
The title track too, although not beholden to a poppy chorus, does force any light to tussle for its place, a repeating vocal refrain emerging from a soup of electronic fuzz and distortion, resulting in a lite-psych headiness that's increasingly pleasing on repeated listens.
Just occasionally, like on 'Keep On Dying', a generic production sheen falls into that all-too-common 2010s trap of muddying together sounds that should be crisp and independent. But overall this is the best work of their respective careers to date. Just as the duo forced themselves into discomfort to create something essential, their earworm-ready songs are made to fight for their right to party.