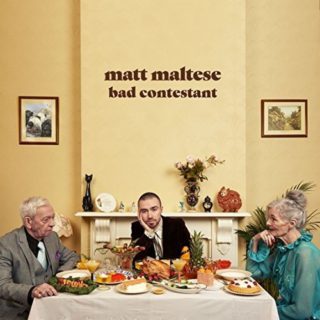 Matt Maltese
Bad Contestant
(Atlantic)
7/10
After years of teasing, south Londoner Matt Maltese has finally gotten around to releasing his debut album. We're two years on from his 'In A New Bed' EP and a year since single 'As The World Caves In'. Recorded with Foxygen's Jonathan Rado in twelve days, 'Bad Contestant' has the touch of someone who spends time with The Lemon Twigs, with multiple parts being reminiscent of Brian D'Addario's more Todd Rundgren-esque efforts.
'Like a Fish' has Wings era Paul McCartney stamped all over it, but with the very un-Beatles beginning line: 'You said you use chocolate / When you and him take off all your clothes / Why the fuck you'd tell me that?'. It's not bad, but the real contender for lyric of the record is 'I bought Cranberry vodka / It's good for your bladder / When you said that, I knew that I want you,' from 'Nightclub Love'.
Unlikely lines like this give Maltese his skewed appeal – it's been done before, but remains fun all the same. So 'As the World Caves In' is a romantic song about a nuclear holocaust while 'Misery' is ironically way more optimistic, sung like Maltese is in a dystopian jazz club.
For all its lyrical quirks, at times it still meanders a bit too close to generic chart pop, but with words to give Father John Misty a run for his money, this feels like it's only the start for Maltese. If the world doesn't end. 
New monthly memberships available
Here's a new thing: our membership scheme now has a pay-monthly option, plus a load of exciting new digital stuff for people who support what we do. It's actually excellent value, honest, and will help us continue to promote new independent artists and labels.
Sign up and you'll receive our physical magazines delivered to your door, our digital editions, exclusive podcasts and playlists and access to our EXTREMELY glamorous Members Lounge. You'll be the envy of all your friends.