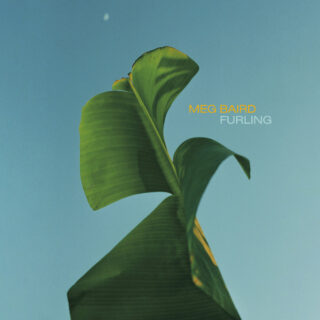 The album's title refers to curling something up into a more compact shape; however, Furling – Meg Baird's fourth record away from band projects – expands the sparser palette of the San Francisco-based singer and multi-instrumentalist's previous solo outings, without ever shifting the spotlight away from Baird's ethereal yet powerful voice.
The heavy-lidded psych-folk of Espers (the Philadelphia band who were at the forefront of the loose 'freak-folk' revival in the '00s), the acid-spiked vintage folk-rock freak-outs of Heron Oblivion, the uneasy calm of Baird's unhurried duo explorations with harpist Mary Lattimore: at times, Furling nods towards all of Baird's best-known collaborative projects. However, the album's combination of deceptively plain songcraft and sneakily sumptuous arrangements (piano, harp, harpsichord, mellotron and drums, amongst other ornamentations, are judiciously scattered throughout the proceedings) builds up to a singular hybrid of timelessly dreamy folk-hued introspection and expansively heady psych-rock sprawl.
There are moments on Furling that bring to mind the majestically wounded balladry of Sandy Denny, while the forlorn, weary piano closer 'Wreathing Days' carries the ghost of a particularly haunted '70s Neil Young solo session. The mood remains nocturnally spectral and melancholy, but never needlessly sluggish or morosely down. That is until the uncharacteristically robust bounce of 'Will You Follow Me Home?' (imagine the rustic country-funk of Stormbringer by John and Beverly Martyn wedded to the space-rock extemporizing of early Pink Floyd) provides a spot of earthily loose rock 'n' roll strutting.
Despite the vintage points of reference, Furling never feels like a bloodless exercise in pastiche or recycled nostalgia. The ingredients might be familiar, but the likes of spooky opener 'Ashes, Ashes' (with Baird's wordless vocals at their most weightless floating ever upwards amongst homespun orchestrations) provide fresh and compelling interpretations of oft-sampled sources of inspiration. It's not the most immediate of listens, but Furling gradually accumulates a hypnotic, magnetic pull that gains gravitas with each listen. The results (which sound impressively live and organically 'in the moment' considering the album was recorded entirely by Baird with Heron Oblivion bandmate Charlie Saufley) might just be the most rewarding flowering of Baird's mission to mine the rich halfway point between traditional folk music and rootsy psych-rock wig-outs.
Free Protomartyr flexi disc with this month's magazine
Subscribers to Loud And Quiet now receive a limited edition flexi disc of a rare track with their copy of the magazine
This month's disc is from Detroit punk band Protomartyr