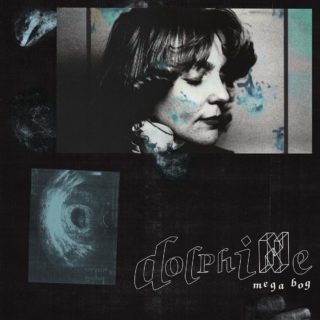 Erin Elizabeth Birgy has spent ten years under the guise of the intriguingly ambiguous moniker Mega Bog, which raises almost as many questions as her music. On her fifth record, titled Dolphine, Birgy navigates personal and anthropological trauma on a soundscape that is musically luscious, disruptive, and superbly unsettling.
Dolphine takes us to a strange and watery place. The title was inspired by the myth which suggests that when humans evolved from sea creatures some remained behind to live dolphin-like below the sea, 'Dolphine' acting as an imagined name for this hybrid civilisation. It is a story that, through Birgy's compelling narration, feels simultaneously mythological and perfectly real.
On lead single 'Diary of a Rose' the opening melody is worked through somewhat chaotically before the steamy beat slips in to take control, creating an effect that is oddly reminiscent of Big Thief's irresistible 'Shark Smile'. The musical composition is alive with mystic energy; it flows and weaves, reluctant to commit to a single theme, mood or even genre. There is a feeling of floating, directionless, through a vast and unconquerable ocean, finding there all sorts of wonders – sometimes magical, sometimes frightening, altogether quite bizarre. Birgy's vocals are sweet and a little manic, seemingly inseparable from the wild images conjured by her lyrics, where trolls, wizards and horses walk freely about the soundscape.
The credits of Dolphine are as expansive as its sonic variety – the record enjoyed collaboration with such industry figures as Meg Duffy aka Hand Habits and Big Thief's James Krivchenia, who recorded and mixed the album. Its also showcases a raw, breezy folk song called 'Spit in the Eye of the Fire King', its traditional structure and down-to-earth lyrics offering brief respite from the record's volatility. The song was written and performed by Ash Rickli, whose sudden and premature death is felt tragically in his lyrics: "I'll die in the light with a tear in my mouth / To extinguish the spark that put light by itself".
Although Dolphine is near impossible to pin down, Birgy surmises the record well on 'Truth in the Wild': "Energised by uncertainty, confusion, disruption / This song's for me." 
Please support Loud And Quiet if you can
If you're a fan of what we do, please consider subscribing to L&Q to help fund our support of new musicians and independent labels
You can make a big difference for a few pounds per month, and in return we'll send you our magazines, exclusive flexi discs, and other subscriber bonus bits and pieces
Try for a month and cancel anytime