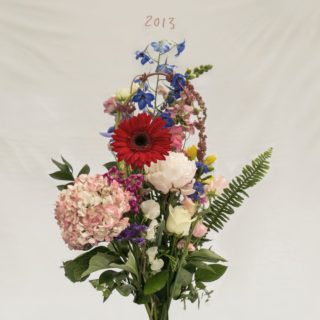 Ever wondered what it's like to live a year in the life of Meilyr Jones? Probably not, but his debut album, '2013', conceived as "an anthology, a collection of my songs and what happened to me in that year" provides a snapshot of just that. Besides a brief sojourn to Italy, though, there's no life-changing event or Hollywood ending rendered in gut-wrenching song, but there is plenty to get you thinking.
The former Race Horses front man and graduate of the Royal Academy of Music possesses that great artistic ability of making the quotidian and mundane profound and theatrical; in fact, it's hard not to envision an accompanying stage show or musical while listening. Full of affectations that are initially a little unwelcoming, give '2013' a chance and you'll be rewarded with an unlikely sound of originality.
At first the high-brow references, baroque instrumentation and 30-strong orchestra can be a little off-putting, coming across as grandiose and, if you're like me, hard to relate to. However, as it unravels there are plenty of pop-culture references too and a whimsical sense of humour that brings everything down to earth. In 'Featured Artist', for example, Jones sings with a knowing smirk, "I am this week's featured artist / I'm the face of the Observer's free magazine," while the strangulated chorus of 'Strange Emotional' is so over the top it sounds like 3am drunken karaoke. Fittingly, karaoke is an influence cited by Jones himself, alongside other contradictory and inconsistent passions: the poetry of Byron and the Romantics, medieval literature, field recordings, music journalism, architecture, musicals – it all combines disparately to work under a sort of internal logic that unfolds slowly the more you listen. Life is rarely consistent after all.
'Don Juan' combines harpsichord and Celtic-sounding flute with a straight up pop chorus chant of "Love is a weakness that I can't get through," while the lyrics of 'Passionate Friend' ("What is this thing, this thing / To which my body clings") is far too (deliberately) clunky to be considered pop. There are changeable arrangements here, and throughout the album certainly carries a good amount of theatricality, but the injections of humour are never far away, recalling Lawrence Arabia and Of Montreal. Other musical influences are harder to pin down though, because in truth, Meilyr Jones has managed to produce something fiercely original. It won't be everyone's cup of tea, and initially it's hard to engage with, but it's an album that seems to care little for trends or fashion, or even to notions of what an album should sound like. Instead it is bold, original and proudly anachronistic.
Please support Loud And Quiet if you can
If you're a fan of what we do, please consider subscribing to L&Q to help fund our support of new musicians and independent labels
You can make a big difference for a few pounds per month, and in return we'll send you our magazines, exclusive flexi discs, and other subscriber bonus bits and pieces
Try for a month and cancel anytime