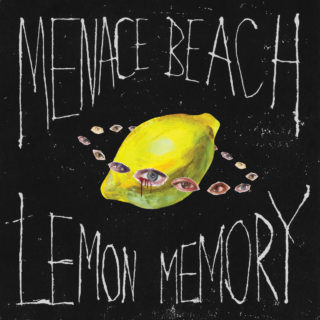 Menace Beach
Lemon Memory
5/10
Any band with a name as cool as Menace Beach is always going to be liable to over-promise and under-deliver. So it proves with Leeds-based duo Liza Violet and Ryan Needham and their second LP, which kicks off as an exciting collision of early-Nineties alternative rock and Hooksworms-aping psych, but quickly runs out of steam. 'Give Blood' represents an excellent opener, with Needham yelping his way around 'Dirty'-era Sonic Youth skronk, replete with the obligatory screeching coda.
New single 'Maybe We'll Drown' immediately brings the energy levels down – rarely a good sequencing move for an album's second song – and never really seems to get going. From then on, it's a decidedly hit-and-miss affair; 'Sentimental' isn't sharp enough to get away with thrashing through two chords even for two-and-a-half minutes, but Violet's 'Suck It Out' and 'Owl' show some promise.
Ultimately though, the problems with 'Lemon Memory' are two-fold: first, the songs aren't distinctive enough but secondly – and much more damagingly – they rarely resolve into anything particularly exciting.
New monthly memberships available
Here's a new thing: our membership scheme now has a pay-monthly option, plus a load of exciting new digital stuff for people who support what we do. It's actually excellent value, honest, and will help us continue to promote new independent artists and labels.
Sign up and you'll receive our physical magazines delivered to your door, our digital editions, exclusive podcasts and playlists and access to our EXTREMELY glamorous Members Lounge. You'll be the envy of all your friends.